In the Dark

release date

A criminal drama commissioned by "BBC One" started in July 2017. One of the main roles was given to Matt King, who made a name for himself playing a goth in the server room in the series "The IT Crowd."

Helen Weeks, who works in the detective department in Manchester, and her lover Paul, who is also her colleague at work, are preparing to become future parents. The news of the pregnancy delighted both of them, but the tragedy that befell Poulford (Helen's hometown) forced them to temporarily put aside their pleasant cares. Linda, Helen's childhood best friend, got involved in the abduction of two schoolgirls. Her husband was accused of the crime. Weeks, convinced of the suspect's innocence, decides to return to her hometown and seek justice. Upon arrival, she realizes that her suspicions were not in vain. Instead of conducting a thorough investigation into the girls' disappearance, the law enforcement agencies pinned the blame on the first available person. The local investigator is definitely being pressured from above. Someone deliberately tries to cover up the kidnapping case, using innocent people. However, who is manipulating the local police and giving orders to the authorities is unclear. The main heroine, who has earned a reputation as a skillful investigator, will try to justify her title.
Release date of

In the Dark

TV Series
New episodes of the «In the Dark» series aired every Tuesday 21:00 on «BBC One» channel. The specified air time corresponds to the country - United Kingdom. Eastern Daylight Time, the episode will be available same day.
In the Dark Season

1

- 4 Episodes

| Episode Number | Episode Name | | Release Date |
| --- | --- | --- | --- |
| 01x04 | Season 1 Episode 4 - Episode 4 | | 01.08.2017 |
| 01x03 | Season 1 Episode 3 - Episode 3 | | 25.07.2017 |
| 01x02 | Season 1 Episode 2 - Episode 2 | | 18.07.2017 |
| 01x01 | Season 1 Episode 1 - Episode 1 | | 11.07.2017 |
In the Dark TV Series trailer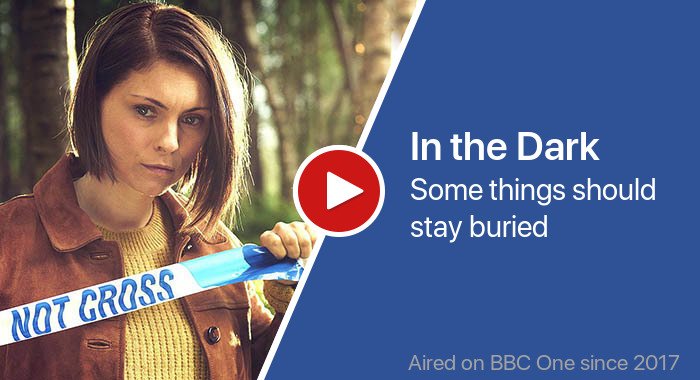 Post discussion
Comments are closed, but will be back soon