Mozart in the Jungle

release date

The musical dramatic comedy by "Amazon Studios" started in February 2014. The actors had to master playing musical instruments, and the series won 2 "Golden Globes".

Hailey Rutledge is a young graduate of the music philharmonic. Her passion is wind instruments, and her plans include conquering the residents of the "Big Apple" with her oboe playing. It is not easy for an ordinary beginner to join a symphony orchestra, but luck favors the girl. However, the desired job has its pitfalls. The orchestra is going through tough times after parting ways with the wise and experienced conductor, Thomas. But the tempting position remains vacant for a short time. The musical team is led by a young and talented Mexican, Rodrigo. The new conductor's ambition is evident to the naked eye. In the first few days, he decides to change the prevailing order by enlivening the orchestra with new faces. Hailey, who finds herself in the center of all these events, begins to understand that stage life is just a beautiful picture. Behind the scenes, there are dirty intrigues, and she will have to take off her "rose-colored glasses" for the sake of fame. The concrete jungle dictates its own rules. Here, even refined classical music manages to coexist with debauchery and drugs.
Release date of

Mozart in the Jungle

TV Series
New episodes of the «Mozart in the Jungle» series aired on Fridays 12:00 on «Amazon Prime» channel. The specified air time corresponds to the country - USA. Eastern Daylight Time, the episode will be available same day.
Mozart in the Jungle Season

4

- 10 Episodes

| Episode Number | Episode Name | | Release Date |
| --- | --- | --- | --- |
| 04x10 | Season 4 Episode 10 - Dance | | 16.02.2018 |
| 04x09 | Season 4 Episode 9 - I Want You to Think of Me | | 16.02.2018 |
| 04x08 | Season 4 Episode 8 - Ichi Go Ichi E | | 16.02.2018 |
| 04x07 | Season 4 Episode 7 - We're Not Robots | | 16.02.2018 |
| 04x06 | Season 4 Episode 6 - Domo Arigato | | 16.02.2018 |
| 04x05 | Season 4 Episode 5 - The Coach | | 16.02.2018 |
| 04x04 | Season 4 Episode 4 - An Honest Ghost | | 16.02.2018 |
| 04x03 | Season 4 Episode 3 - Significant Lover | | 16.02.2018 |
| 04x02 | Season 4 Episode 2 - If I Was an Elf, I Would Tell You | | 16.02.2018 |
| 04x01 | Season 4 Episode 1 - The Boyfriend | | 16.02.2018 |
Mozart in the Jungle Season

3

- 10 Episodes

| Episode Number | Episode Name | | Release Date |
| --- | --- | --- | --- |
| 03x10 | Season 3 Episode 10 - You're the Best or You F'ing Suck | | 09.12.2016 |
| 03x09 | Season 3 Episode 9 - Creative Solutions for Creative Lives | | 09.12.2016 |
| 03x08 | Season 3 Episode 8 - Circles Within Circles | | 09.12.2016 |
| 03x07 | Season 3 Episode 7 - Not Yet Titled | | 09.12.2016 |
| 03x06 | Season 3 Episode 6 - Symphony of Red Tape | | 09.12.2016 |
| 03x05 | Season 3 Episode 5 - Now I Will Sing | | 09.12.2016 |
| 03x04 | Season 3 Episode 4 - Avventura Romantica | | 09.12.2016 |
| 03x03 | Season 3 Episode 3 - My Heart Opens to Your Voice | | 09.12.2016 |
| 03x02 | Season 3 Episode 2 - The Modern Piece | | 09.12.2016 |
| 03x01 | Season 3 Episode 1 - La Fiamma | | 09.12.2016 |
Mozart in the Jungle Season

2

- 10 Episodes

| Episode Number | Episode Name | | Release Date |
| --- | --- | --- | --- |
| 02x10 | Season 2 Episode 10 - Home | | 30.12.2015 |
| 02x09 | Season 2 Episode 9 - Amusia | | 30.12.2015 |
| 02x08 | Season 2 Episode 8 - Leave Everything Behind | | 30.12.2015 |
| 02x07 | Season 2 Episode 7 - Can You Marry a Moon? | | 30.12.2015 |
| 02x06 | Season 2 Episode 6 - How to Make God Laugh | | 30.12.2015 |
| 02x05 | Season 2 Episode 5 - Regresso Del Rey | | 30.12.2015 |
| 02x04 | Season 2 Episode 4 - Touch Maestro, Touch | | 30.12.2015 |
| 02x03 | Season 2 Episode 3 - It All Depends on You | | 30.12.2015 |
| 02x02 | Season 2 Episode 2 - Nothing Resonates Like Rhinoceros Foreskin | | 30.12.2015 |
| 02x01 | Season 2 Episode 1 - Stern Papa | | 30.12.2015 |
Mozart in the Jungle Season

1

- 10 Episodes

| Episode Number | Episode Name | | Release Date |
| --- | --- | --- | --- |
| 01x10 | Season 1 Episode 10 - Opening Night | | 23.12.2014 |
| 01x09 | Season 1 Episode 9 - Now Fortissimo | | 23.12.2014 |
| 01x08 | Season 1 Episode 8 - Mozart with the Bacon | | 23.12.2014 |
| 01x07 | Season 1 Episode 7 - You Go to My Head | | 23.12.2014 |
| 01x06 | Season 1 Episode 6 - The Rehearsal | | 23.12.2014 |
| 01x05 | Season 1 Episode 5 - I'm with the Maestro | | 23.12.2014 |
| 01x04 | Season 1 Episode 4 - You Have Insulted Tchaikovsky | | 23.12.2014 |
| 01x03 | Season 1 Episode 3 - Silent Symphony | | 23.12.2014 |
| 01x02 | Season 1 Episode 2 - Fifth Chair | | 23.12.2014 |
| 01x01 | Season 1 Episode 1 - Pilot | | 06.02.2014 |
Mozart in the Jungle TV Series trailer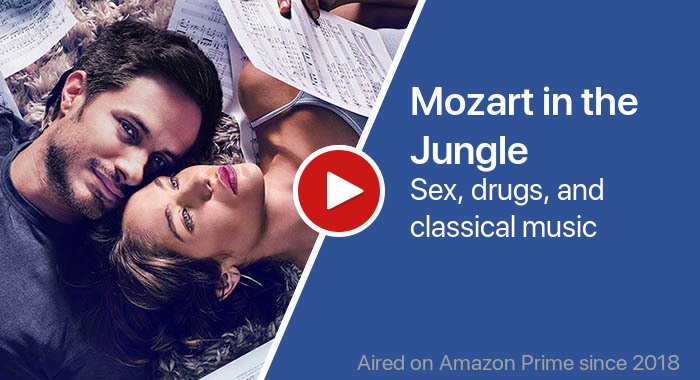 Post discussion
Comments are closed, but will be back soon