The TNT channel in May 2017 will show eight episodes of the second season of the TV series "Politseiskii s Rublevki". Find out what will be shown in the continuation of the new comedy show on the main entertainment channel in Russia on our website.
A TV series, in which the main role was played by Alexander Petrov, was loved by the target audience of the channel (18-49 years old), so the continuation of the series began shooting almost immediately after the finale of the first part. The script for the second season was created by the unrivaled Ilya Kulikov. The premiere date of the ninth episode, with which a new part of the story about "The Policeman from Rublyovka" will start, is scheduled for May 22, 2017.
The first season ended with Izmailov moving with his colleagues from the luxury district of "Barvikha-North" to "Beskudnikovo". This decision was a compromise so as not to dismiss the guys for their misconduct in the eighth episode. In addition, Grisha is now dating Christina, and Alyona will also fight for the heart of the young operative.
About the show
The plot of the series takes viewers into the everyday life of a police station that deals with the most elite district of Russia. The main character of the show is Grigory Izmailov, who himself is well-off in life. Several years before the events of the show, his well-off parents were killed, and he inherited their fortune. After that, he decided to fight against injustice. He arrives at jobs in the latest Mercedes, socializes in the most expensive nightclubs, and lives the life of a millionaire. The only attribute that connects him to ordinary life is his work in the police. Naturally, this individual is very disliked by the station chief.
Season 2 preview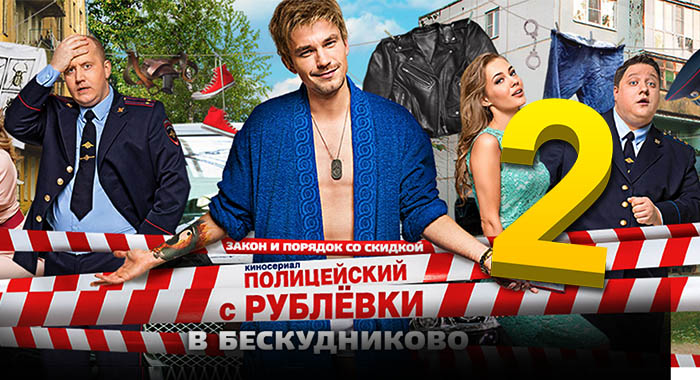 Yakovlev is trying his best to return himself and his colleagues back to Barvikha. Nika Izmailova has found someone with whom she wants to start a family. Kristina does not give up hope for happiness with Grisha. Muhich will also find his own lover. However, the employees of the Beskudnikovo Police Department are not happy with the new colleagues...
The first season of the show started on March 21, 2016, and consisted of only 8 episodes. In the second season, the adventures of the Izmailovs may expand to 16 full episodes. The decision to renew the series will directly depend on the ratings received during the spring for the TV series.
When will Season 2 of Politceiskii s Rublevki be released
| Ep. number | Episode name | Release date |
| --- | --- | --- |
| 02x01 | | 22 May 2017 |
| 02x02 | | 23 May 2017 |
| 02x03 | | 24 May 2017 |
| 02x04 | | 25 May 2017 |
| 02x05 | | 29 May 2017 |
| 02x06 | | 30 May 2017 |
| 02x07 | | 31 May 2017 |
| 02x08 | | 01 June 2017 |