Siyah Beyaz Ask

release date

The criminal drama premiered on Turkish screens in October 2017. The soundtrack was composed by Yıldıray Gürgen, who also created the music for the amazing melodrama "Only You".

In such conditions, Aslı had never worked before. Kidnapping, a luxurious mansion, an unknown man with a serious injury – all these events of one day turned the fate of the young doctor upside down. An honest and decent girl dedicated years to studying the profession that saves lives. Her abilities, allowing her to resuscitate critically ill patients, earned the respect of colleagues and the appreciation of the management. Kindness and selflessness were highly valued by patients who recommended the young woman to their friends and acquaintances. However, popularity played a cruel trick by making Aslı a victim of criminals. The abductor, Ferhat, took the captive beyond the city limits and forced her to perform an emergency operation on his injured friend. The kidnapper turned out to be a person capable of killing without hesitation, having cast aside warm human emotions. Despite fear, the professional inside came to the fore, giving the girl the opportunity to save the injured person. But even that did not allow her to just walk away. The murder that took place later in the mansion before her eyes made the hostage an involuntary witness. Ferhat was instructed to eliminate her, but something inside him prevented him from doing so. The man resorts to a deal that will forever change her former life.
Release date of

Siyah Beyaz Ask

TV Series
New episodes of the «Siyah Beyaz Ask» series aired every Monday 20:00 on «Kanal D» channel. The specified air time corresponds to the country - Turkey. Eastern Daylight Time, the episode will be available same day.
Siyah Beyaz Ask Season

1

- 32 Episodes

| Episode Number | Episode Name | | Release Date |
| --- | --- | --- | --- |
| 01x32 | Season 1 Episode 32 | | 28.05.2018 |
| 01x31 | Season 1 Episode 31 | | 21.05.2018 |
| 01x30 | Season 1 Episode 30 | | 14.05.2018 |
| 01x29 | Season 1 Episode 29 | | 07.05.2018 |
| 01x28 | Season 1 Episode 28 | | 30.04.2018 |
| 01x27 | Season 1 Episode 27 | | 23.04.2018 |
| 01x26 | Season 1 Episode 26 | | 16.04.2018 |
| 01x25 | Season 1 Episode 25 | | 09.04.2018 |
| 01x24 | Season 1 Episode 24 | | 02.04.2018 |
| 01x23 | Season 1 Episode 23 | | 26.03.2018 |
| 01x22 | Season 1 Episode 22 | | 19.03.2018 |
| 01x21 | Season 1 Episode 21 | | 12.03.2018 |
| 01x20 | Season 1 Episode 20 | | 05.03.2018 |
| 01x19 | Season 1 Episode 19 | | 26.02.2018 |
| 01x18 | Season 1 Episode 18 | | 19.02.2018 |
| 01x17 | Season 1 Episode 17 | | 12.02.2018 |
| 01x16 | Season 1 Episode 16 | | 05.02.2018 |
| 01x15 | Season 1 Episode 15 | | 29.01.2018 |
| 01x14 | Season 1 Episode 14 | | 22.01.2018 |
| 01x13 | Season 1 Episode 13 | | 15.01.2018 |
| 01x12 | Season 1 Episode 12 | | 08.01.2018 |
| 01x11 | Season 1 Episode 11 | | 25.12.2017 |
| 01x10 | Season 1 Episode 10 | | 18.12.2017 |
| 01x09 | Season 1 Episode 9 | | 11.12.2017 |
| 01x08 | Season 1 Episode 8 | | 04.12.2017 |
| 01x07 | Season 1 Episode 7 | | 27.11.2017 |
| 01x06 | Season 1 Episode 6 | | 20.11.2017 |
| 01x05 | Season 1 Episode 5 | | 13.11.2017 |
| 01x04 | Season 1 Episode 4 | | 06.11.2017 |
| 01x03 | Season 1 Episode 3 | | 30.10.2017 |
| 01x02 | Season 1 Episode 2 | | 23.10.2017 |
| 01x01 | Season 1 Episode 1 | | 16.10.2017 |
Siyah Beyaz Ask TV Series trailer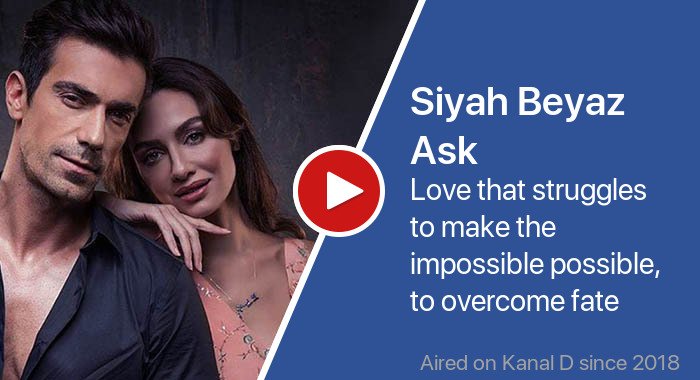 News about

Siyah Beyaz Ask

tv series
It will be possible to assess the second season of the melodrama "Black and White Love" in autumn 2018, as reported by the producer Aise Durmaz,
Post discussion
Comments are closed, but will be back soon