SS-GB

release date

Fil Kadelbach directed a complex, high-quality series that great directors are afraid to take on. The series premiered in 2017. It's no wonder that BBC Films and Sid Gentle Films, serious channels from Great Britain, released the series.

Autumn of 1941 was a difficult time for Europe. The Nazis marched confidently and vigorously across it. The avant-garde of the Nazis, the SS troops, conducted themselves like owners everywhere. Occupied Britain was no exception. London police officers abstracted themselves from politics, believing that their job was to catch killers, not engage in politics. Douglas Archer is a renowned detective. All criminals in London know him. The only problem is that now there is a different leadership in Scotland Yard than before. Douglas turns a blind eye to that, doing his best to focus solely on his professional duties. He seems to have made a deal with his conscience and continues working. But conscience is a tricky thing. Sooner or later, it will trip up those who make a deal with it. Douglas falls into such a trap. A strange murder case lands on his desk. All the evidence leads to the London resistance, various intelligence agencies, and, as a result, welcome to the world of high politics. In such moments, you question your conscience. But it betrays you and remains silent. What should a detective do - investigate the murder as a routine crime or take a side he has long been awaited?
Release date of

SS-GB

TV Series
New episodes of the «SS-GB» series aired every Sunday 21:00 on «BBC One» channel. The specified air time corresponds to the country - United Kingdom. Eastern Daylight Time, the episode will be available same day.
SS-GB Season

1

- 5 Episodes

| Episode Number | Episode Name | | Release Date |
| --- | --- | --- | --- |
| 01x05 | Season 1 Episode 5 | | 19.03.2017 |
| 01x04 | Season 1 Episode 4 | | 12.03.2017 |
| 01x03 | Season 1 Episode 3 | | 05.03.2017 |
| 01x02 | Season 1 Episode 2 | | 26.02.2017 |
| 01x01 | Season 1 Episode 1 | | 19.02.2017 |
SS-GB TV Series trailer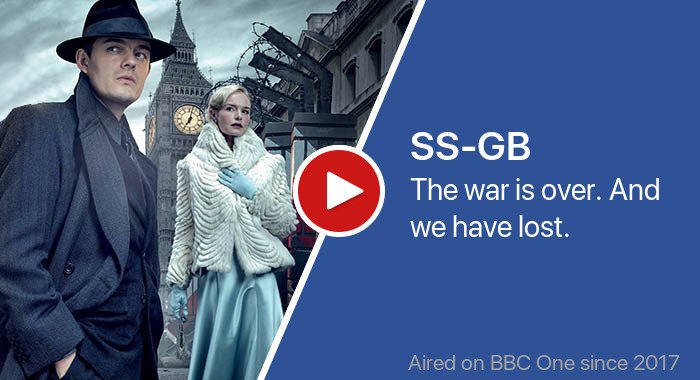 Post discussion
Comments are closed, but will be back soon