Will

release date

The world premiere of the series took place on July 10, 2017, on the TNT channel. Filming took place in the UK in the territories of Lacock and Wiltshire in 2017.

The events of the series tell the story of how young and ambitious William Shakespeare arrives in London to perform on stage and write his plays. He wants to perform in the local theater and create works that will go down in history. It is the 16th century, and his young talent is met with a wave of misunderstanding from the ordinary audience, not accustomed to anything new. The playwright also faces harsh criticism from representatives of the church, who condemn his works for violating the canons of the Catholic Church. Shakespeare meets a very beautiful and talented girl named Alice Burbage, who wants to perform on stage despite all the prohibitions of her family. Girls from high-ranking English families of that time were forbidden to act in the theater, as it was considered hypocrisy. Despite all the difficulties, Alice and Shakespeare are determined to work in the theater and change the social norms that hinder the development of magnificent and beautiful art. They find a theatrical troupe with which they start performing on stage, despite persecution and condemnation. Shakespeare composes his plays, presents them to the judgment of the troupe, directs them himself, and also acts in them. He believes that the future of English theater has already arrived, and he is its main part.
Release date of

Will

TV Series
New episodes of the «Will» series aired every Monday 21:00 on «TNT» channel. The specified air time corresponds to the country - USA. Eastern Daylight Time, the episode will be available same day.
Will Season

1

- 10 Episodes

| Episode Number | Episode Name | | Release Date |
| --- | --- | --- | --- |
| 01x10 | Season 1 Episode 10 - Once, Bright Angel | | 04.09.2017 |
| 01x09 | Season 1 Episode 9 - Play the Devil | | 28.08.2017 |
| 01x08 | Season 1 Episode 8 - Your Houses | | 21.08.2017 |
| 01x07 | Season 1 Episode 7 - What Dreams May Come | | 14.08.2017 |
| 01x06 | Season 1 Episode 6 - Something Wicked This Way Comes | | 07.08.2017 |
| 01x05 | Season 1 Episode 5 - The Marriage of True Minds | | 31.07.2017 |
| 01x04 | Season 1 Episode 4 - Brave New World | | 24.07.2017 |
| 01x03 | Season 1 Episode 3 - The Two Gentlemen | | 17.07.2017 |
| 01x02 | Season 1 Episode 2 - Cowards Die Many Times | | 10.07.2017 |
| 01x01 | Season 1 Episode 1 - The Play's the Thing | | 10.07.2017 |
Will TV Series trailer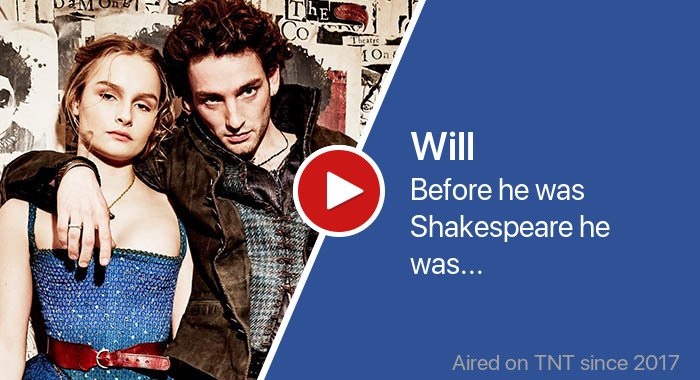 Post discussion
Comments are closed, but will be back soon