ALZhIR

release date

The Russian TV series in the genre of historical drama from the NTV channel. Starring Ekaterina Guseva, Kirill Pletnyov, and Darya Ekamasova.

The series "Algiers" tells the story of the times of Stalinist repressions. Several thousand women languish in a women's camp. Among them are relatives of once influential and powerful government officials and military personnel. Marshal Tukhachevsky's sister is here. The wives and mothers of Soviet writers and poets - the mother of Bulat Okudzhava, Arkady Gaidar. They are all members of the Traitors of the Fatherland Club. Olga Pavlova is the wife of a famous aviation designer. In the wagon, she meets opera singer Sofia Ter-Ashaturova. She ended up in the camp due to a false denunciation. Intrigues behind the scenes of the theater led to such a step from her rival. The life of the prima donna of the opera stage changes drastically in an instant. Together with Olga, they will have to experience the fear and pain of repression camps. There is life behind the barbed wire too. But for each minute, one must fight and overcome oneself. Who will be able to survive in this insane world of a specific women's prison, where a prisoner can be easily crushed both morally and physically. The Akmolinsky Camp of Traitors of the Fatherland is hell for the faithful companions of the military and creative intelligentsia.
Release date of

ALZhIR

TV Series
New episodes of the «ALZhIR» series aired Monday to Thursday 19:40 on «NTV» channel. The specified air time corresponds to the country - Russia. Eastern Daylight Time, the episode will be available same day.
ALZhIR Season

2

- 1 Episode

Episode Number

Episode Name
Release Date
02x01

Season 2 Episode 1

16.06.2020
This season was aired

on Tuesday, June 16 at 19:00
ALZhIR Season

1

- 11 Episodes

| Episode Number | Episode Name | | Release Date |
| --- | --- | --- | --- |
| 01x11 | Season 1 Episode 11 | | 20.06.2019 |
| 01x10 | Season 1 Episode 10 | | 20.06.2019 |
| 01x09 | Season 1 Episode 9 | | 19.06.2019 |
| 01x08 | Season 1 Episode 8 | | 19.06.2019 |
| 01x07 | Season 1 Episode 7 | | 19.06.2019 |
| 01x06 | Season 1 Episode 6 | | 18.06.2019 |
| 01x05 | Season 1 Episode 5 | | 18.06.2019 |
| 01x04 | Season 1 Episode 4 | | 18.06.2019 |
| 01x03 | Season 1 Episode 3 | | 17.06.2019 |
| 01x02 | Season 1 Episode 2 | | 17.06.2019 |
| 01x01 | Season 1 Episode 1 | | 17.06.2019 |
ALZhIR TV Series trailer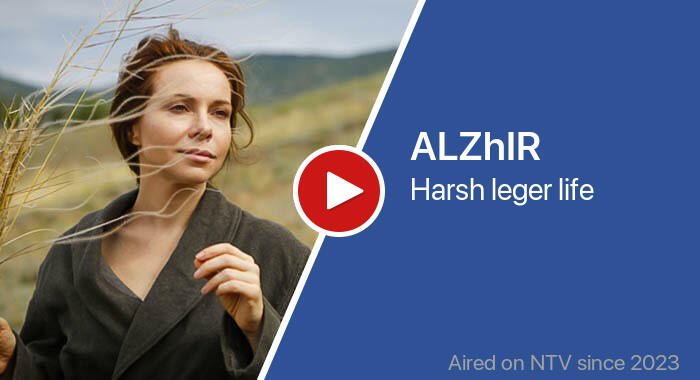 Post discussion
Comments are closed, but will be back soon