BH90210

release date

The stars of the cult TV show of the 90s were offered to appear in the continuation of the entertainment project, and most of them gladly agreed.

In the original story, it is about a wonderful family named Walsh, members of which had to change their place of residence and educational institution. The younger generation easily made contact with the self-absorbed students of the new school and became friends with a group of classmates. Brandon began to show signs of attention towards the drug-addicted blonde Kelly. His good friend Dylan also has his eyes on the charming lady. The young people make persistent attempts to resolve the misunderstandings that have arisen and try not to conflict over the attractive girls. At the same time, the youth experiences all the joys of growing up and learns to make informed decisions. The charismatic guys become friends, visit entertainment venues, go on exciting trips, look for normal part-time jobs, crash their first cars, and gain necessary experience. After several decades, their paths cross again. Everyone has aged slightly and forgotten about youthful maximalism. They are concerned about completely different problems related to family, career, and age crisis. However, the key characters are still supported by old friends, who do not abandon them in difficult moments.
Release date of

BH90210

TV Series
New episodes of the «BH90210» series aired on Wednesdays 21:00 on «FOX» channel. The specified air time corresponds to the country - USA. Eastern Daylight Time, the episode will be available same day.
BH90210 Season

1

- 6 Episodes

| Episode Number | Episode Name | | Release Date |
| --- | --- | --- | --- |
| 01x06 | Season 1 Episode 6 - The Long Wait | | 11.09.2019 |
| 01x05 | Season 1 Episode 5 - Pictures Up | | 04.09.2019 |
| 01x04 | Season 1 Episode 4 - The Table Read | | 28.08.2019 |
| 01x03 | Season 1 Episode 3 - The Photo Shoot | | 21.08.2019 |
| 01x02 | Season 1 Episode 2 - The Pitch | | 14.08.2019 |
| 01x01 | Season 1 Episode 1 - The Reunion | | 07.08.2019 |
BH90210 TV Series trailer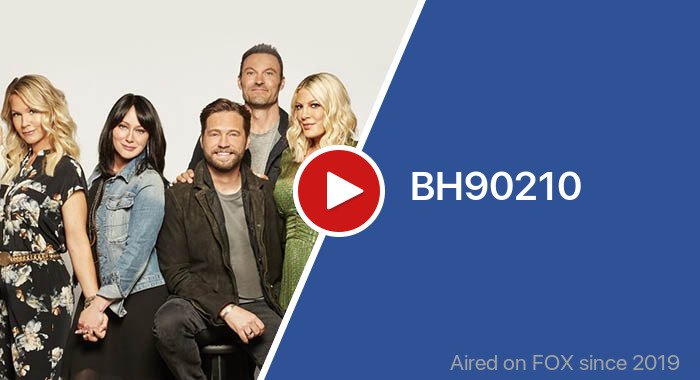 News about

BH90210

tv series
Kris Albergini, showrunner of the TV series "BH90210," announced that Season 2 will not be released before 2020.
Post discussion
Comments are closed, but will be back soon