Blizkie

release date

In 2017, TV3 plans to launch the crime comedy "Close" directed by Petr Buslov, known for his film "Boomer". The main role went to Vladimir Vdovichenkov, who still remains the image of an incorrigible criminal from the aforementioned film and TV series "Brigade", which has become a legend in its time.

The script of the TV series revolves around Andrei Akimov, who is more widely known in the criminal world as "Papa". This is not without reason, as he has an extensive illegal business in which a person's life is worth nothing. The only person Andrei is willing to listen to is his own wife, and even then only occasionally. While carrying out another task, he chases his victim with a gun, but a second later finds himself in "purgatory". In order not to go straight to hell, he has to promise to give up his criminal activities and return to earth to make amends for his actions. From this moment, Akimov's life takes a new turn and the experienced and cold-blooded killer begins his journey towards redemption of his sins. Naturally, this is not easy - the habits and connections developed over many years of criminal business do not let him rest, but he has no choice but to give in and give up his empire.

The first season of the series "Close" is planned to be divided into 16 episodes. The leadership of TV3 is confident that this project will be able to overshadow even the suddenly famous "PhysEd Teacher". Well, let's see after the premiere episode is aired in the near future.
Release date of

Blizkie

TV Series
New episodes of the «Blizkie» series aired Monday to Thursday 22:00 on «TV3» channel. The specified air time corresponds to the country - Russia. Eastern Daylight Time, the episode will be available same day.
Blizkie Season

1

- 1 Episode

Episode Number

Episode Name
Release Date
01x01

Season 1 Episode 1

09.04.2017
This season was aired

on Sunday, April 9 at 22:00
Blizkie TV Series trailer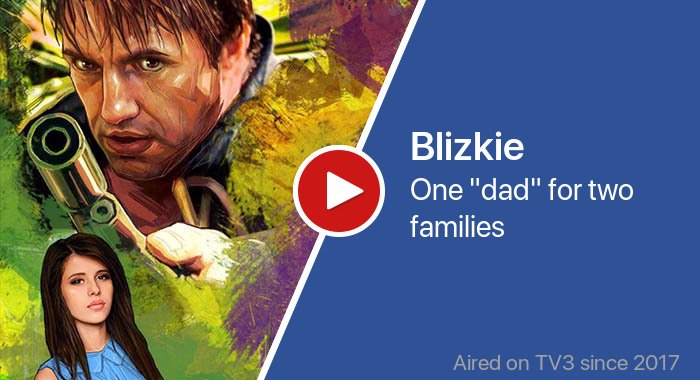 News about

Blizkie

tv series
The sequel to the crime drama "Blizkie" by TV-3 channel and Petr Buslov will not be filmed. The second season of the show has been cancelled because within the framework of the project "To be or not to be," the pilot episode received a rating of only 64% instead of 75%.
Post discussion
Comments are closed, but will be back soon