Bolshoi chelovek

release date

In 2019, a comedy series called "Big Man" is expected to be released, starring the residents of "Comedy Club". The premiere is scheduled for the beginning of the year and will be broadcasted by the popular TV channel "TNT". As promised by the creators of the series, the work will appeal to a diverse audience, and the situations will be hilariously exaggerated.

The protagonist's normal life leads him to dismal consequences. A great job and a comfortable home, plenty of friends - what else could Matvey wish for? Enjoying his ordinary way of life year after year, he didn't notice how he lost his attractiveness. After all, his belly and weight increased incredibly fast. Initially, it didn't seem like a big problem, but when friends and colleagues started making jokes about him, Matvey looked at himself in the mirror. Shocked by his appearance, he immediately started looking for a solution, which was already obvious. The solution to the problem was found quickly - the main thing was to stop eating fatty food at home and not to go to fast-food places and cafes, but also to engage in sports. And that's when the curious situations begin - it turned out to be not so easy to give up unhealthy food. The protagonist is irresistibly drawn to the refrigerator at night as if by an unseen force. That's why he decided to join a fitness club, where he really liked a girl. This became the main motivation for achieving his goals. However, with his plump body, all of Matvey's efforts seem clumsy and funny. Will he be able to overcome his weaknesses and become a well-toned handsome man?
Release date of

Bolshoi chelovek

TV Series
New episodes of the «Bolshoi chelovek» series aired Monday to Thursday 20:00 on «TNT» channel. The specified air time corresponds to the country - Russia. Eastern Daylight Time, the episode will be available same day.
Bolshoi chelovek Season

1

- 5 Episodes

| Episode Number | Episode Name | | Release Date |
| --- | --- | --- | --- |
| 01x05 | Season 1 Episode 5 | | 05.09.2019 |
| 01x04 | Season 1 Episode 4 | | 04.09.2019 |
| 01x03 | Season 1 Episode 3 | | 03.09.2019 |
| 01x02 | Season 1 Episode 2 | | 02.09.2019 |
| 01x01 | Season 1 Episode 1 | | 02.09.2019 |
Bolshoi chelovek TV Series trailer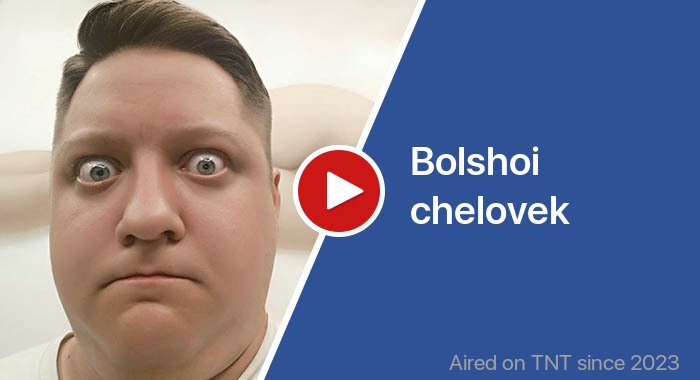 News about

Bolshoi chelovek

tv series
The Russian mini-series with Roman Popov, Nastya Zadorozhnaya, and "Young Guard" E. Spitsa, "Bolshoi chelovek," has been extended by TNT channel for 2020. The first episodes of the second season of this sitcom are expected in 2019!
Post discussion
Comments are closed, but will be back soon