Bu Sehir Arkandan Gelecek

release date

The series was created by Turkish filmmakers. The world premiere took place on January 4, 2017.

Ali is a young man who is 28 years old. From an early age, the guy was raised by a ship's cook who replaced his parents. Ali knows several languages and graduated from a maritime school. He also has a huge passion. It's boxing. He cannot imagine his life without sparring and intense training. Thanks to this sport, the guy gained self-confidence. The ship is approaching Istanbul, a city with which the main character has unpleasant memories associated. Here he lost his parents. However, despite all his fears, he decides to stay in the city for one day. Derin is a girl from a wealthy family who received a good education and is seriously engaged in dancing. Her father is a powerful and indifferent person who wants to determine his daughter's fate himself. The father is against Derin's dancing career, considering it an unserious occupation. There is a little over a week left before the girl's wedding, but this fact does not make her happy at all. Ali and Derin accidentally meet on one of the streets of Istanbul. Together, they spend only one day, which is destined to drastically change their future.
Release date of

Bu Sehir Arkandan Gelecek

TV Series
New episodes of the «Bu Sehir Arkandan Gelecek» series aired on Wednesdays 20:00 on «ATV» channel. The specified air time corresponds to the country - Turkey. Eastern Daylight Time, the episode will be available same day.
Bu Sehir Arkandan Gelecek Season

1

- 20 Episodes

| Episode Number | Episode Name | | Release Date |
| --- | --- | --- | --- |
| 01x20 | Season 1 Episode 20 | | 14.06.2017 |
| 01x19 | Season 1 Episode 19 | | 07.06.2017 |
| 01x18 | Season 1 Episode 18 | | 24.05.2017 |
| 01x17 | Season 1 Episode 17 | | 10.05.2017 |
| 01x16 | Season 1 Episode 16 | | 03.05.2017 |
| 01x15 | Season 1 Episode 15 | | 19.04.2017 |
| 01x14 | Season 1 Episode 14 | | 12.04.2017 |
| 01x13 | Season 1 Episode 13 | | 29.03.2017 |
| 01x12 | Season 1 Episode 12 | | 22.03.2017 |
| 01x11 | Season 1 Episode 11 | | 15.03.2017 |
| 01x10 | Season 1 Episode 10 | | 08.03.2017 |
| 01x09 | Season 1 Episode 9 | | 01.03.2017 |
| 01x08 | Season 1 Episode 8 | | 22.02.2017 |
| 01x07 | Season 1 Episode 7 | | 15.02.2017 |
| 01x06 | Season 1 Episode 6 | | 08.02.2017 |
| 01x05 | Season 1 Episode 5 | | 01.02.2017 |
| 01x04 | Season 1 Episode 4 | | 25.01.2017 |
| 01x03 | Season 1 Episode 3 | | 18.01.2017 |
| 01x02 | Season 1 Episode 2 | | 11.01.2017 |
| 01x01 | Season 1 Episode 1 | | 04.01.2017 |
Bu Sehir Arkandan Gelecek TV Series trailer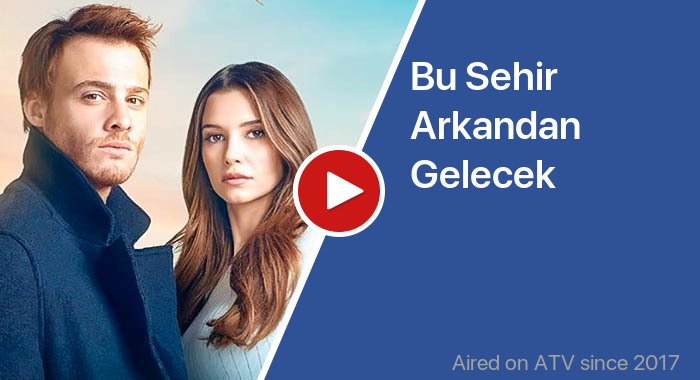 Post discussion
Comments are closed, but will be back soon