Black Dog

release date

The miniseries is the result of the joint work of Belarusian and Russian television professionals. The thrilling project is based on the works of Nikolay Chergintsev.

Greg Brinner engages in arms trading. He has made a difficult business mainstream and reached an international level. He manages to circumvent the rules and avoid encounters with government officials. The cunning hitman plans to make a mutually beneficial deal that promises him a multimillion-dollar profit. To do this, he has to go to Syria for important negotiations with buyers. The fearless Major Rubtsov is given an urgent task to track down the greedy criminal and hold him accountable for his illegal actions. The brave guy leads a special unit that is sent to a foreign country to carry out the operation. Andrey skillfully organizes the work of his entrusted team and captures Brinner. However, a horrible situation arises during the task. An enemy infiltrates the ranks of the unit. Due to his machinations, almost all members of the formed operational group die. Rubtsov finds the strength to escape. The brave soldier returns to Russia with amnesia. He is unable to tell anything about what happened. Strong and independent Olga provides significant support. The hardworking lady is a worker of an anti-terrorism organization and helps the key character uncover the truth.
Release date of

Black Dog

TV Series
New episodes of the «Black Dog» series aired every Sunday 20:10 on «NTV» channel. The specified air time corresponds to the country - Belgium. Eastern Daylight Time, the episode will be available same day.
Black Dog Season

1

- 4 Episodes

| Episode Number | Episode Name | | Release Date |
| --- | --- | --- | --- |
| 01x04 | Season 1 Episode 4 | | 03.03.2019 |
| 01x03 | Season 1 Episode 3 | | 03.03.2019 |
| 01x02 | Season 1 Episode 2 | | 03.03.2019 |
| 01x01 | Season 1 Episode 1 | | 03.03.2019 |
Black Dog TV Series trailer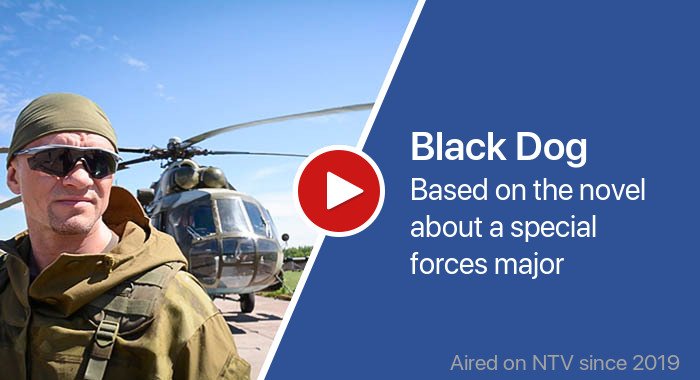 News about

Black Dog

tv series
Yuri Bazik, the executive producer of the suspenseful project "Black Dog," announced that the second season is expected to premiere in spring 2020.
Post discussion
Comments are closed, but will be back soon