Clique

release date

British TV series, premiered on March 5, 2017. Directed by Andrea Harkin. Starring Rachel Wood, Sennova Carlsen, Sofia Brown, Mark Strepmann.

The story of two school friends, Holly and Georgia. They enroll in the University of Edinburgh. Georgia joins a community of con artists led by Jude McDormid. This closed community is desired by many, but only a limited number are initiated. Holly is initially jealous of her friend for being able to join such an elite club. However, she soon becomes alarmed when she realizes that Georgia has fallen into a trap. Influential businessmen and socialites carry out schemes in which the girls from the closed club are merely excess baggage. Holly tries to convince her friend to leave the group. However, it is not that simple. Once someone is in the clique, they can't leave alive. At least no one has succeeded in doing so before. Holly wishes to rescue her childhood friend from the circumstances she's fallen into. Both of them get caught up in a series of events that drastically change their lives. Will the childhood friend be able to save her classmate, who willingly joined the "wrong" company? They must go through a series of trials where their lives are at stake.
Release date of

Clique

TV Series
New episodes of the «Clique» series aired on Saturdays 10:00 on «BBC Three» channel. The specified air time corresponds to the country - United Kingdom. Eastern Daylight Time, the episode will be available same day.
Clique Season

2

- 6 Episodes

| Episode Number | Episode Name | | Release Date |
| --- | --- | --- | --- |
| 02x06 | Season 2 Episode 6 - Episode 6 | | 15.12.2018 |
| 02x05 | Season 2 Episode 5 - Episode 5 | | 08.12.2018 |
| 02x04 | Season 2 Episode 4 - Episode 4 | | 01.12.2018 |
| 02x03 | Season 2 Episode 3 - Episode 3 | | 24.11.2018 |
| 02x02 | Season 2 Episode 2 - Episode 2 | | 17.11.2018 |
| 02x01 | Season 2 Episode 1 - Episode 1 | | 10.11.2018 |
Clique Season

1

- 6 Episodes

| Episode Number | Episode Name | | Release Date |
| --- | --- | --- | --- |
| 01x06 | Season 1 Episode 6 - Episode 6 | | 09.04.2017 |
| 01x05 | Season 1 Episode 5 - Episode 5 | | 02.04.2017 |
| 01x04 | Season 1 Episode 4 - Episode 4 | | 26.03.2017 |
| 01x03 | Season 1 Episode 3 - Episode 3 | | 19.03.2017 |
| 01x02 | Season 1 Episode 2 - Episode 2 | | 12.03.2017 |
| 01x01 | Season 1 Episode 1 - Episode 1 | | 05.03.2017 |
Clique TV Series trailer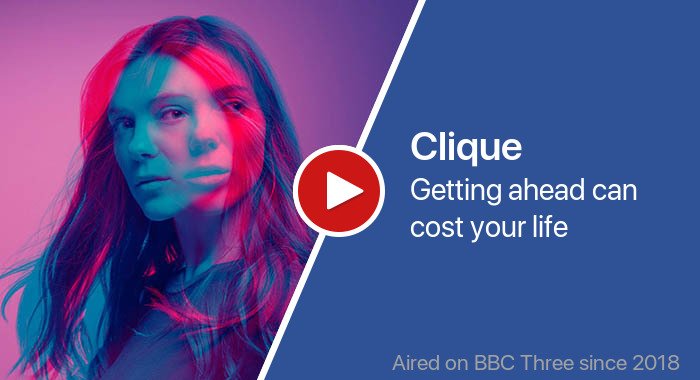 Post discussion
Comments are closed, but will be back soon