Farang

release date

The dramatic thriller was released in Swedish cinemas in March 2017. The word from the title of the series "таицы" is used to refer to people of European appearance.

Rikard decided to break away from his criminal past by leaving the country and hiding on a tropical island located in Thai territory. 10 years pass peacefully on the shores of Thailand. The man assumes a different identity and lives calmly under a fictional name. Making a living happens through fraudulent schemes, but on a smaller scale than before. Despite the existing hardships, the new life is quite satisfactory in terms of safety. But back home, the manhunt still continues. This is reminded to the hero by the sudden surprise of Tyra's daughter. The girl has overcome a considerable distance to find her father. However, the newfound parent had no idea that somewhere his offspring existed. He has no idea about being in a father's role, and there is no time to deal with relationships. Old enemies, who followed the traveler's trail, are about to make an unpleasant visit. Now, not only the hero's life is in danger, but also that of his child. The only way out seems to be to strike first by joining forces with each other.
Release date of

Farang

TV Series
New episodes of the «Farang» series aired every Thursday 21:00 on «C More» channel. The specified air time corresponds to the country - Sweden. Eastern Daylight Time, the episode will be available same day.
Farang Season

1

- 8 Episodes

| Episode Number | Episode Name | | Release Date |
| --- | --- | --- | --- |
| 01x08 | Season 1 Episode 8 - Episode 8 | | 20.04.2017 |
| 01x07 | Season 1 Episode 7 - Episode 7 | | 13.04.2017 |
| 01x06 | Season 1 Episode 6 - Episode 6 | | 06.04.2017 |
| 01x05 | Season 1 Episode 5 - Episode 5 | | 30.03.2017 |
| 01x04 | Season 1 Episode 4 - Episode 4 | | 23.03.2017 |
| 01x03 | Season 1 Episode 3 - Episode 3 | | 16.03.2017 |
| 01x02 | Season 1 Episode 2 - Episode 2 | | 09.03.2017 |
| 01x01 | Season 1 Episode 1 - Episode 1 | | 09.03.2017 |
Farang TV Series trailer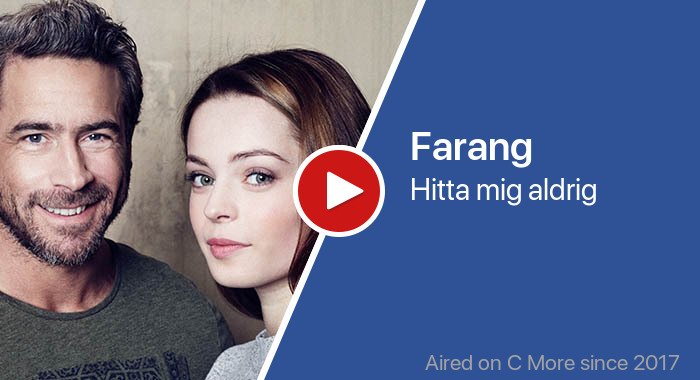 Post discussion
Comments are closed, but will be back soon