Draiv

release date

The domestic mini-series, with a preliminary premiere scheduled for spring 2018, has been directed by Anario Mamedov. It stars Vladimir Epifanzev, Vera Panfilova, and amateur racing driver Nikolay Fomenko.

The story tells about a young man named Anton. A true fan of cars and fast driving, he works as a stuntman and performs dangerous tricks. Doctors have given him a fatal diagnosis. However, the young man does not stop engaging in his favorite car sport and continues to appear in action movies. During participation in illegal races, Anton crosses paths with representatives of criminal structures. Now he finds himself in a complex intertwining of criminal showdowns, surveillance by law enforcement agencies, and the struggle with his own illness. It turns out that one of his former colleagues from the set, Sergei, has long held a grudge against Anton. Now he is connected with local criminal authorities and wants to seek revenge against his rival. He has several reasons for this. It includes his wife Irina, who had a connection with the stuntman, as well as a large debt that the guy took out for treatment at one of the Moscow clinics. How will the confrontation of the adrenaline-fueled stuntman, who has nothing to lose, and people from the world of criminals end?
Release date of

Draiv

TV Series
New episodes of the «Draiv» series aired on Saturdays 12:00 on «VKcom» channel. The specified air time corresponds to the country - Russia. Eastern Daylight Time, the episode will be available same day.
Draiv Season

1

- 8 Episodes

| Episode Number | Episode Name | | Release Date |
| --- | --- | --- | --- |
| 01x08 | Season 1 Episode 8 - Серия 8 | | 17.05.2020 |
| 01x07 | Season 1 Episode 7 - Серия 7 | | 17.05.2020 |
| 01x06 | Season 1 Episode 6 - Серия 6 | | 17.05.2020 |
| 01x05 | Season 1 Episode 5 - Серия 5 | | 17.05.2020 |
| 01x04 | Season 1 Episode 4 - Серия 4 | | 16.05.2020 |
| 01x03 | Season 1 Episode 3 - Серия 3 | | 16.05.2020 |
| 01x02 | Season 1 Episode 2 - Серия 2 | | 16.05.2020 |
| 01x01 | Season 1 Episode 1 - Серия 1 | | 16.05.2020 |
Draiv TV Series trailer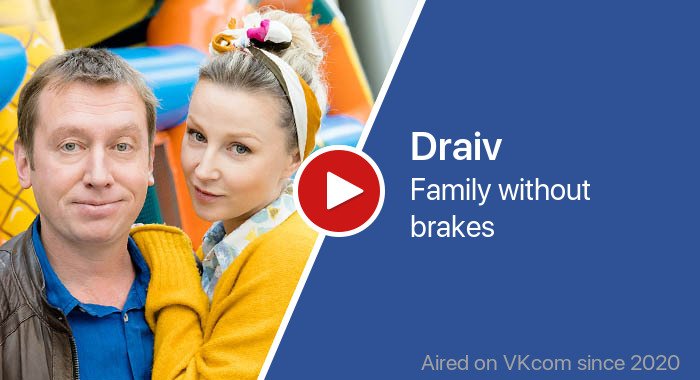 Post discussion
Comments are closed, but will be back soon