Grach

release date

The domestic series in a rather rare genre for our country - science fiction. The director was Denis Neimand. Starring Konstantin Murzenko, Artyom Krylov, Ilya Shakunov, and Alisa Zolotkova.

Gleb Losev lives in Moscow with his mother. With each passing day, she becomes more and more insane. In the end, the teenager runs away to his grandmother in Tugarin - a provincial village where only one relative on his father's side remained. Along the way, he finds a strange thing, which he keeps. Joining the school community is difficult, but gradually the young man finds himself in this town. But adventures of a completely different nature await him. Almost half a century ago, an event happened here, which all the intelligence agencies kept silent about. The landing of an alien spacecraft was carefully hidden from the residents. Gleb doesn't even suspect that soon he will have to become an intermediary between extraterrestrial civilizations and humanity. In Losev's hands is a mysterious device for transferring an alien into a human body. An alien is embodied in one of the girls from school. Now a series of strange events begins in the village, leading to the death of citizens. Gleb Losev and his classmates try to find out what is happening here. They need to save themselves and protect their friends and loved ones.
Release date of

Grach

TV Series
New episodes of the «Grach» series aired every Monday 21:30 on «Pervyi kanal» channel. The specified air time corresponds to the country - Russia. Eastern Daylight Time, the episode will be available same day.
Grach Season

1

- 12 Episodes

| Episode Number | Episode Name | | Release Date |
| --- | --- | --- | --- |
| 01x12 | Season 1 Episode 12 - Новая игра | | 12.02.2013 |
| 01x11 | Season 1 Episode 11 - Глубокое прикрытие | | 12.02.2013 |
| 01x10 | Season 1 Episode 10 - Слёзы королевы | | 11.02.2013 |
| 01x09 | Season 1 Episode 9 - Кино и немцы | | 11.02.2013 |
| 01x08 | Season 1 Episode 8 - Научный подход | | 07.02.2013 |
| 01x07 | Season 1 Episode 7 - Дезертир | | 07.02.2013 |
| 01x06 | Season 1 Episode 6 - Старое кино | | 06.02.2013 |
| 01x05 | Season 1 Episode 5 - Найдёныш | | 06.02.2013 |
| 01x04 | Season 1 Episode 4 - Мадонна с младенцем | | 05.02.2013 |
| 01x03 | Season 1 Episode 3 - Тень отца | | 05.02.2013 |
| 01x02 | Season 1 Episode 2 - Спой о смерти | | 04.02.2013 |
| 01x01 | Season 1 Episode 1 - Контакт | | 04.02.2013 |
Grach TV Series trailer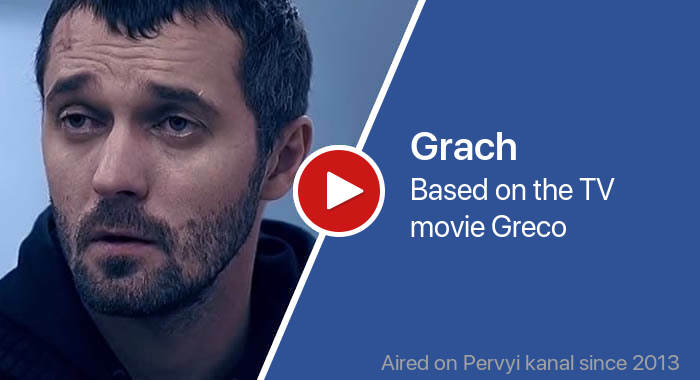 Post discussion
Comments are closed, but will be back soon