Gusar

release date

"TNT" producers have prepared a gift for fantasy fans in the form of an energetic and versatile comedian Garik Kharlamov, who played the role of a mustachioed hussar.

The action takes place in 1812. The main hero becomes a desperate lieutenant of the Leib-Guard. The key character is ready to perform a feat for the coveted stars. The handsome man doesn't give up and anticipates that there are many positive moments and memorable situations ahead. Suddenly, a shocking incident happens to the brave soldier. Due to an amazing experiment, the charismatic soldier is transported to the modern world and is forced to observe the unreal changes that have occurred on the planet. Rylsky didn't expect what to do in an unfamiliar country and tries to orient himself in unfamiliar conditions. The poor fellow ends up in the Russian capital, where his paths cross with an active explorer and his restless relatives. The aspiring scientist agrees to provide shelter for the traveler. But he himself has accumulated an incredible number of unsolvable problems. The young man has ruined his relationship with his beautiful fiancée and has practically lost his family. The dissatisfied professor's wife seriously considers ending the marriage. Her husband has to do two things at once - try to save the marriage and repair the broken time machine.
Release date of

Gusar

TV Series
New episodes of the «Gusar» series aired Monday to Thursday 20:00 on «TNT» channel. The specified air time corresponds to the country - Russia. Eastern Daylight Time, the episode will be available same day.
Gusar Season

1

- 4 Episodes

| Episode Number | Episode Name | | Release Date |
| --- | --- | --- | --- |
| 01x04 | Season 1 Episode 4 | | 05.03.2020 |
| 01x03 | Season 1 Episode 3 | | 04.03.2020 |
| 01x02 | Season 1 Episode 2 | | 03.03.2020 |
| 01x01 | Season 1 Episode 1 | | 02.03.2020 |
Gusar TV Series trailer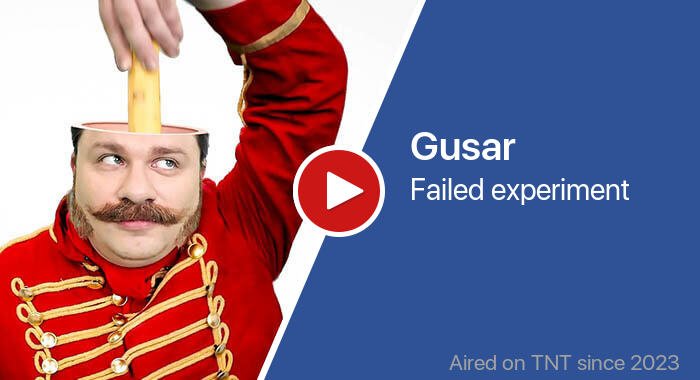 News about

Gusar

tv series
A representative of the TV channel "TNT" revealed that the 2nd season of the TV series "Gusar" will take place no earlier than spring 2021.
Post discussion
Comments are closed, but will be back soon