Julie's Greenroom

release date

This series is created by Jim Henson's Netflix company. The premiere took place in the United States on March 17, 2017. The puppet show is hosted by Hollywood stars.

An educational program in which a world-famous Hollywood actress named Julie Andrews teaches a group of Muppets children. Each teenager has their own characteristics - someone is disabled, someone grew up in an African-American neighborhood and, besides weapons and fights, doesn't recognize anything else. They are all united by a complex character and a lack of desire to learn something new. The task of talented and incredibly charming Miss Julie is to teach difficult children acting and art, to instill in them a passion for art and everything beautiful in our world. Julie Andrews was chosen for such a difficult role not by chance - she is well known to the children's audience for her role as the kind nanny Mary Poppins, who brilliantly found a common language with children and animals. Now she faces no less difficult, but incredibly fascinating task. In her teaching arsenal, she has sparkling humor and incredible charm. She is able to turn even the most boring lesson into a spectacular show and surprise her viewers. She is helped in this by a charming assistant in the form of a charismatic goose with incredibly high intelligence. Such a company can interest even the most lazily inclined students.
Release date of

Julie's Greenroom

TV Series
New episodes of the «Julie's Greenroom» series aired on Fridays 12:00 on «Netflix» channel. The specified air time corresponds to the country - USA. Eastern Daylight Time, the episode will be available same day.
Julie's Greenroom Season

1

- 13 Episodes

| Episode Number | Episode Name | | Release Date |
| --- | --- | --- | --- |
| 01x13 | Season 1 Episode 13 - Mash-Up: The Musical | | 17.03.2017 |
| 01x12 | Season 1 Episode 12 - The Mess Rehearsal | | 17.03.2017 |
| 01x11 | Season 1 Episode 11 - Costumer Service | | 17.03.2017 |
| 01x10 | Season 1 Episode 10 - Rhythm Is Gonna Get You | | 17.03.2017 |
| 01x09 | Season 1 Episode 9 - Send in the WOW | | 17.03.2017 |
| 01x08 | Season 1 Episode 8 - Quacktice Makes Perfect | | 17.03.2017 |
| 01x07 | Season 1 Episode 7 - Morning at the Improv | | 17.03.2017 |
| 01x06 | Season 1 Episode 6 - Write … Write a Song | | 17.03.2017 |
| 01x05 | Season 1 Episode 5 - Barre None | | 17.03.2017 |
| 01x04 | Season 1 Episode 4 - Hello from the Ogre Side | | 17.03.2017 |
| 01x03 | Season 1 Episode 3 - Singin' in the Room | | 17.03.2017 |
| 01x02 | Season 1 Episode 2 - The Write Stuff! | | 17.03.2017 |
| 01x01 | Season 1 Episode 1 - The Show Must Go On | | 17.03.2017 |
Julie's Greenroom TV Series trailer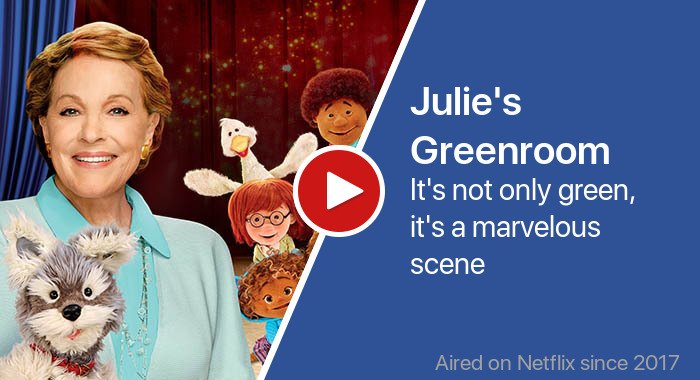 Post discussion
Comments are closed, but will be back soon