Mystery Road

release date

The creators of the thriller have bet on slowness and understatement. At the same time, the audience gets a unique opportunity to see the pristine beauty of the Australian countryside.

The central character turned out to be a fair adult guy who chose the path of justice. He served in the law enforcement system and occasionally had to go on boring business trips. The management becomes aware of the mysterious disappearance of two workers who lived on a deserted ranch. Australians have no idea where their neighbors have gone. The workers are engaged in physical labor and are completely indifferent to where the earth diggers have vanished. Jay is ordered to go to a strange village and find out where the hardworking guys have gone. He hopes that the job will not take an incredible amount of hours and will allow him to relax from the gray weekdays. The straightforward man begins to investigate the case and does it at a leisurely pace. He is joined by a self-confident colleague. She comes from a village and is familiar with the customs of her fellow countrymen. The fellow citizens do not strive to share the information they have and consider it important to keep secrets with the utmost secrecy. Mature woman Emma helps Swan to interview witnesses and identify the brazen thugs.
Release date of

Mystery Road

TV Series
New episodes of the «Mystery Road» series aired every Sunday 20:30 on «ABC» channel. The specified air time corresponds to the country - Australia. Eastern Daylight Time, the episode will be available same day.
Mystery Road Season

2

- 1 Episode

Episode Number

Episode Name
Release Date
02x01

Season 2 Episode 1

03.06.2019
This season was aired

on Monday, June 3 at 20:00
Mystery Road Season

1

- 6 Episodes

| Episode Number | Episode Name | | Release Date |
| --- | --- | --- | --- |
| 01x06 | Season 1 Episode 6 - The Truth | | 01.07.2018 |
| 01x05 | Season 1 Episode 5 - The Waterhole | | 24.06.2018 |
| 01x04 | Season 1 Episode 4 - Silence | | 17.06.2018 |
| 01x03 | Season 1 Episode 3 - Chasing Ghosts | | 10.06.2018 |
| 01x02 | Season 1 Episode 2 - Blood Ties | | 03.06.2018 |
| 01x01 | Season 1 Episode 1 - Gone | | 03.06.2018 |
Mystery Road TV Series trailer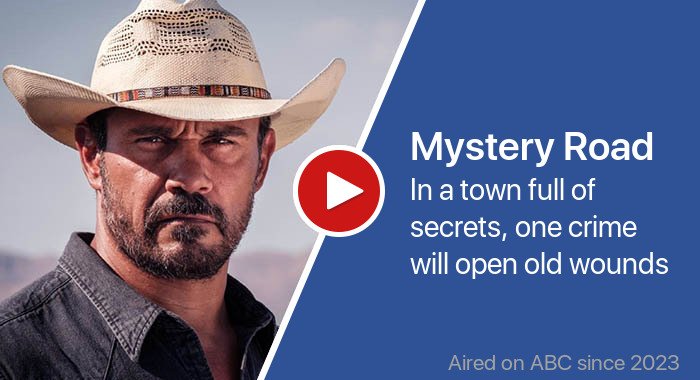 News about

Mystery Road

tv series
The representative of the film company Bunya Productions has revealed that the second season of the Australian TV series "Mystery Road" will be released in the middle of 2019.
Post discussion
Comments are closed, but will be back soon