Neo Yokio

release date

The director of the animated show is the talented Japanese Kadzuhira Furukhashi, who is familiar to fans for intriguing projects like "Real Drive" and "Amatsuki".

The events take place in an extraordinary city called Neo Yokio. It is located in the northern part and has a good reputation. The settlement is famous for its enormous size and the presence of an unimaginable number of incredible labyrinths. Here you can find absolutely everything - architectural structures, cultural heritage, financial institutions, and fashionable stores. At the center of attention is a noble family, and a member of that family is the charismatic heartthrob Kaz Kaan. He is known as the youngest of the magisters. The charismatic and fearless demon knights are known for being involved in the salvation of the indigenous population. The young man must continue the work of his great ancestors. However, he is only concerned with love adventures, playing his beloved hockey, and expensive acquisitions. He is friends with a personal mechanic who supports him in difficult situations. In addition to reliable comrades, he has a sworn rival who tries to embarrass him. Suddenly, the paths of the charming bachelor intersect with the outstanding blogger Helena. The attractive young man begins to spend his leisure time with the graceful adventuress.
Release date of

Neo Yokio

TV Series
New episodes of the «Neo Yokio» series aired on Fridays 12:00 on «Netflix» channel. The specified air time corresponds to the country - USA. Eastern Daylight Time, the episode will be available same day.
Neo Yokio Season

1

- 6 Episodes

| Episode Number | Episode Name | | Release Date |
| --- | --- | --- | --- |
| 01x06 | Season 1 Episode 6 - Im Starting to Think Neo Yokios Not the Greatest City in the World | | 22.09.2017 |
| 01x05 | Season 1 Episode 5 - The Russians? Exactly, the Soviets. | | 22.09.2017 |
| 01x04 | Season 1 Episode 4 - Hamptons Water Magic | | 22.09.2017 |
| 01x03 | Season 1 Episode 3 - O, the Helenists... | | 22.09.2017 |
| 01x02 | Season 1 Episode 2 - A Pop Star of Infinite Elegance | | 22.09.2017 |
| 01x01 | Season 1 Episode 1 - The Sea Beneath 14th St. | | 22.09.2017 |
Neo Yokio TV Series trailer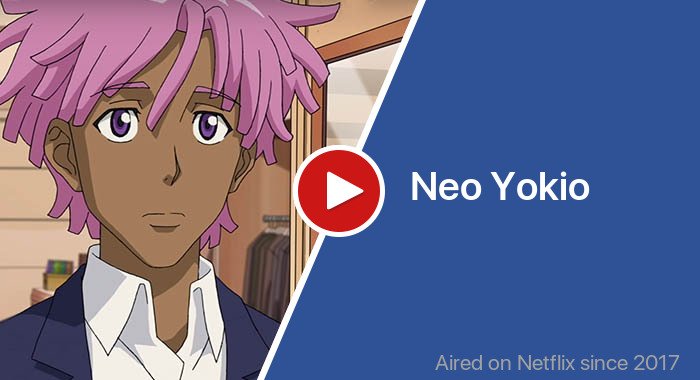 News about

Neo Yokio

tv series
A representative of the Moi Animation film studio shared the desire to showcase the episodes of the second season of the project "Neo Yokio" in the middle of 2019.
Post discussion
Comments are closed, but will be back soon