Ordeal by Innocence

release date

The detective drama from the film studio "Amazon," "BBC Television Centre," and "Agatha Christie Productions" started in April 2018. The series is based on the work of the famous Agatha Christie.

Christmas night in 1954 turned into a terrible tragedy for the Argyle family. The body of the house owner, found in the drawing-room of the estate and lying in a pool of her own blood, seriously spoiled the approaching holiday, instilling horror among the residents. The youngest son, Jack, one of the 5 adopted children of the aristocratic couple, was accused of the crime. Despite the protests of the young man, he was thrown behind bars due to the lack of an alibi. The sentence imposed by the court was never served due to the imminent death of the prisoner. After 1.5 years, the estate gathers again all those who were present on that fateful night. The reason for the gathering is the wedding of the widower Leo, who decided to end his mourning for his deceased wife. The confusion into the planned celebration is brought by Dr. Arthur Calgary, declaring that he will shed light on the details of the committed murder. Being confident in Jack's innocence, he intends to expose the real killer. However, instead of joy from those around him, the man encounters confusion. The gathered people do not want to get involved in the investigation, as each one of them is not without guilt.
Release date of

Ordeal by Innocence

TV Series
New episodes of the «Ordeal by Innocence» series aired every Sunday 21:00 on «BBC One» channel. The specified air time corresponds to the country - United Kingdom. Eastern Daylight Time, the episode will be available same day.
Ordeal by Innocence Season

1

- 3 Episodes

| Episode Number | Episode Name | | Release Date |
| --- | --- | --- | --- |
| 01x03 | Season 1 Episode 3 | | 15.04.2018 |
| 01x02 | Season 1 Episode 2 | | 08.04.2018 |
| 01x01 | Season 1 Episode 1 | | 01.04.2018 |
Ordeal by Innocence TV Series trailer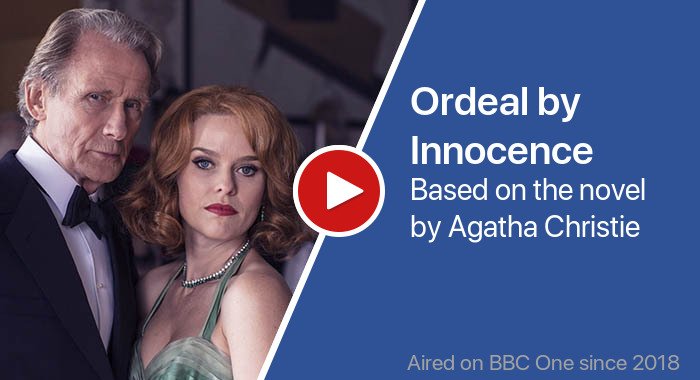 News about

Ordeal by Innocence

tv series
A representative of the film studio Mammoth Screen revealed that the second season of the TV series "Innocence Test" will be shown in the middle of 2019.
Post discussion
Comments are closed, but will be back soon