Random Acts of Flyness

release date

The team of writers is represented by talented individuals. For instance, Jamand Washington was involved in the production of the films "The Tramp" and "Little Lie".

Together with a group of like-minded people, Terence Nance has prepared a plethora of thought-provoking topics about the greatness and ugliness of the modern world for the viewers. The program consists of unique sketches that are loosely connected to each other. Often, they don't have a global meaning. For example, the first story is dedicated to a strange narrative about a ridiculously perfect mistake. A dark-skinned person gets into someone else's car. The comfortable means of transportation reminds him of his personal car, which is parked nearby. The audience is then given the opportunity to watch the incredible performance of a peculiar lady with a braid and dressed in dark clothes. The black woman sings a song about death and assures the citizens that no one will escape such a fate. Therefore, there is no point in running away. The plot then revolves around a pregnant black girl. The pregnant heroine is annoyed that the medical staff needs to explain important information a hundred times. Only then will the nurses pay attention to her and provide qualified assistance. This is just a part of the funny and slightly crazy videos that their ideological inspirers are eager to present to the public court.
Release date of

Random Acts of Flyness

TV Series
New episodes of the «Random Acts of Flyness» series aired on Saturdays 12:00 on «HBO» channel. The specified air time corresponds to the country - USA. Eastern Daylight Time, the episode will be available same day.
Random Acts of Flyness Season

2

- 1 Episode

Episode Number

Episode Name
Release Date
02x01

Season 2 Episode 1

03.08.2019
This season was aired

on Saturday, August 3 at 12:00
Random Acts of Flyness Season

1

- 6 Episodes

| Episode Number | Episode Name | | Release Date |
| --- | --- | --- | --- |
| 01x06 | Season 1 Episode 6 - They Wont Go When I Go | | 08.09.2018 |
| 01x05 | Season 1 Episode 5 - I Tried to Tell My Therapist About My Dreams | | 01.09.2018 |
| 01x04 | Season 1 Episode 4 - Items Outside the Shelter But Within Reach | | 25.08.2018 |
| 01x03 | Season 1 Episode 3 - They Got Some S**t Thatll Blow Out Our Back | | 18.08.2018 |
| 01x02 | Season 1 Episode 2 - Two Piece and a Biscuit | | 11.08.2018 |
| 01x01 | Season 1 Episode 1 - What Are Your Thoughts Raising Free Black Children? | | 04.08.2018 |
Random Acts of Flyness TV Series trailer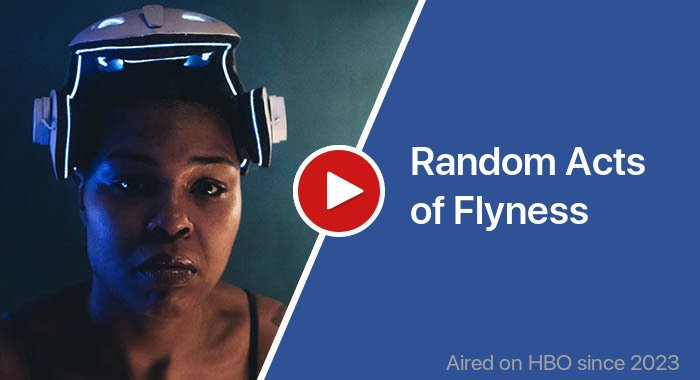 News about

Random Acts of Flyness

tv series
A representative of the Home Box Office film studio has revealed that the second season of the TV show "In Free Flight" will air in mid-2019.
Post discussion
Comments are closed, but will be back soon