Russkii plennik

release date

The script for this series was written by Alexey Gravitsky, who is known for such works in cinema and TV series as "Earthquake", "The Great", "Rublevka Live".

A young guy finds himself in a dangerous situation. By chance, he falls into a cleverly set trap and becomes a captive. He is kept in a dirty, dark basement and fed only so that he can perform hard physical work. Only in this case is he released from the basement under strict supervision. The main character is not going to surrender to the mercy of ruthless kidnappers, he believes that he will find a way to escape captivity. However, it is not easy to do this, the guy does not fully understand where he is at all, and how to free himself from the slave basement when supervisors are watching him closely. Several escape attempts fail and nearly lead the prisoner to terrible consequences. But the young man is not going to give up, he comes up with new ways of escape, while studying what is happening around, trying to understand who plays what roles in this incomprehensible place. In such a situation, one can rely only on their intellect and character, luck does not exist in these places, it must be won in a cruel fight. The Russian slave is not going to give up until his last breath.
Release date of

Russkii plennik

TV Series
New episodes of the «Russkii plennik» series aired Monday to Thursday 21:00 on «Rossiia 1» channel. The specified air time corresponds to the country - Russia. Eastern Daylight Time, the episode will be available same day.
Russkii plennik Season

1

- 12 Episodes

| Episode Number | Episode Name | | Release Date |
| --- | --- | --- | --- |
| 01x12 | Season 1 Episode 12 | | 15.03.2021 |
| 01x11 | Season 1 Episode 11 | | 11.03.2021 |
| 01x10 | Season 1 Episode 10 | | 10.03.2021 |
| 01x09 | Season 1 Episode 9 | | 09.03.2021 |
| 01x08 | Season 1 Episode 8 | | 08.03.2021 |
| 01x07 | Season 1 Episode 7 | | 04.03.2021 |
| 01x06 | Season 1 Episode 6 | | 03.03.2021 |
| 01x05 | Season 1 Episode 5 | | 02.03.2021 |
| 01x04 | Season 1 Episode 4 | | 01.03.2021 |
| 01x03 | Season 1 Episode 3 | | 25.02.2021 |
| 01x02 | Season 1 Episode 2 | | 24.02.2021 |
| 01x01 | Season 1 Episode 1 | | 23.02.2021 |
Russkii plennik TV Series trailer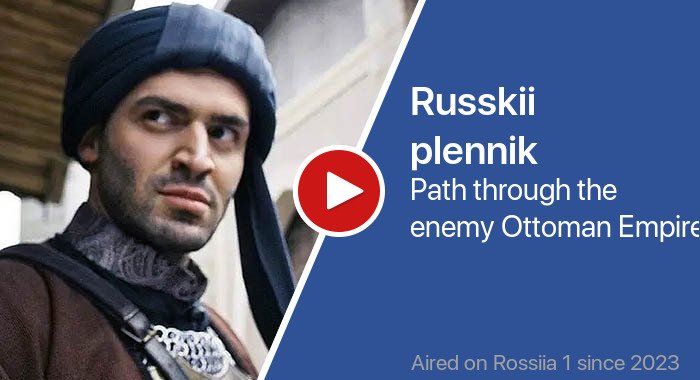 Post discussion
Comments are closed, but will be back soon