Shubert

release date

The TV channel NTV has started shooting a multi-series film called "Shubert", but it is not, as many thought, a remake of the popular American TV show "Mozart in the Jungle". The series will be completely different, although there will still be a certain musical theme in it.

Alexander Bertnev is an incredibly talented person with the gift of so-called "listeners" or "acoustics" - people with a keen sense of hearing that helps them distinguish and differentiate sounds that are inaudible or unnoticed by ordinary people. His close ones simply call him Shurka Bertnev, or, in short, Shubert. Once he tried to get a job in an anti-terrorist unit, he really wanted to work there and help people, but unfortunately, due to a combination of circumstances, it didn't work out. Evil fate brings the guy back to the service of fighting terrorist organizations, although this time he really needs the help of its employees. Now the man is in deep sorrow, someone mercilessly kills his beloved Olya, who led a secret life that he only found out about after his wife's death. The beloved woman left him sound codes, which only he is capable of deciphering. Perhaps these recordings will help Shubert find the killers and fully take revenge on them for the crime.
Release date of

Shubert

TV Series
New episodes of the «Shubert» series aired Monday to Thursday 21:30 on «NTV» channel. The specified air time corresponds to the country - Russia. Eastern Daylight Time, the episode will be available same day.
Shubert Season

1

- 4 Episodes

| Episode Number | Episode Name | | Release Date |
| --- | --- | --- | --- |
| 01x04 | Season 1 Episode 4 | | 02.10.2018 |
| 01x03 | Season 1 Episode 3 | | 02.10.2018 |
| 01x02 | Season 1 Episode 2 | | 01.10.2018 |
| 01x01 | Season 1 Episode 1 | | 01.10.2018 |
Shubert TV Series trailer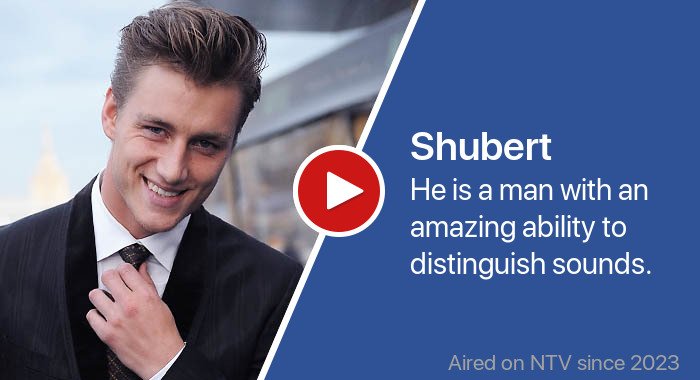 News about

Shubert

tv series
You will be able to see the 2nd season of the Russian crime drama "Shubert" in the 2nd half of 2018, as announced by the executive producer of the project, Yulia Sumacheva.
Post discussion
Comments are closed, but will be back soon