Sofiia

release date

History movie lovers have a surprise awaiting them, as the film company "Moskino" has released the TV series "Sofia". This is a large-scale adaptation of the dramatic events of the 15th century, when Russia fought against the dominance of the Mongol-Tatar yoke. The premiere took place in November 2016 on the well-known channel "Russia-1". The filming took place in many countries, ensuring the spectacle of the film.

For centuries, brutal battles have been waged on the territory of Russia, as this is driven by the desire of the Mongol-Tatars to seize their lands in order to increase their influence in global dominance. The Moscow prince seeks ways to end the long-standing animosity and achieve victory. At this time, a despot rules in the Byzantine Empire, who decides to strengthen his position with the help of his daughter. He wants to marry her to Ivan III in order to strengthen the influence of the Catholic Church and gain support in the struggle against the Turks. However, Zoya turned out to be a strong-willed girl with her own views and plans. After arriving in Moscow, she converts to Orthodoxy, taking the name Sofia, and stands by her husband's side. Her father could not foresee this turn of events. At first, the people of Russia treated the new princess with contempt and mistrust, but after seeing her positive influence on the principality, they showed recognition. The young princess brought not only knowledge from the Byzantine Empire, but also many specialists and thinkers who contributed to the rapid development of the state. Grand Prince Ivan feels the support and makes a decision that could completely change history. How will these grand changes in the state end? Will Sofia be able to put an end to the bloodshed wars?
Release date of

Sofiia

TV Series
New episodes of the «Sofiia» series aired Monday to Thursday 21:00 on «Rossiia-1» channel. The specified air time corresponds to the country - Russia. Eastern Daylight Time, the episode will be available same day.
Sofiia Season

1

- 8 Episodes

| Episode Number | Episode Name | | Release Date |
| --- | --- | --- | --- |
| 01x08 | Season 1 Episode 8 | | 01.12.2016 |
| 01x07 | Season 1 Episode 7 | | 01.12.2016 |
| 01x06 | Season 1 Episode 6 | | 30.11.2016 |
| 01x05 | Season 1 Episode 5 | | 30.11.2016 |
| 01x04 | Season 1 Episode 4 | | 29.11.2016 |
| 01x03 | Season 1 Episode 3 | | 29.11.2016 |
| 01x02 | Season 1 Episode 2 | | 28.11.2016 |
| 01x01 | Season 1 Episode 1 | | 28.11.2016 |
Sofiia TV Series trailer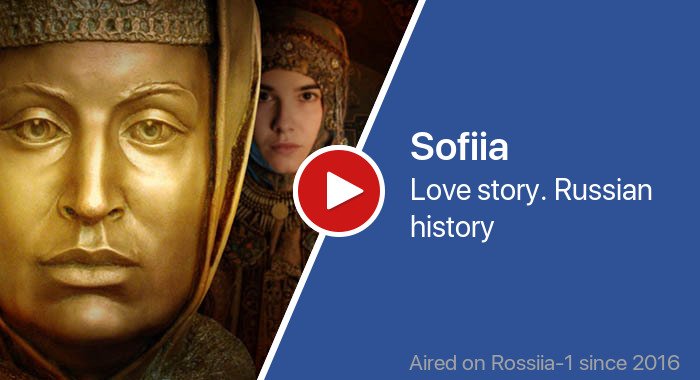 News about

Sofiia

tv series
The Ministry of Culture of the Russian Federation has made a decision to extend the historical series "Sofiia" for a 2nd season, which will be broadcasted in 2017. The production has been entrusted to the film studio "Moskino". The filming is planned in the nearest future.
Post discussion
Comments are closed, but will be back soon