Troy: Fall of a City

release date

The historical series from the film company "BBC Television Centre" started on the British TV channel "BBC One" in February 2018. One of the directors of the film was Owen Harris - the creator of the fantastic series "Black Mirror".

The famous love story that destroyed the legendary city and claimed thousands of human lives. Strong feelings that arose when meeting the beauty Elena - the wife of King Menelaus, prompted the young Paris to take a desperate step. The bloody war that broke out after the kidnapping of the girl irreversibly changed the fate of the lovers. The terrible outcome predicted by one of the heiresses to the throne could have been prevented, but paternal feelings did not allow getting rid of the cursed child. The Trojan War, which lasted for decades and was immortalized by Homer, demonstrated the tremendous strength of the defenders and the cunning of the besiegers. The trick with the giant wooden gift, firmly established in history and becoming proverbial, put an end to the protracted siege and allowed the Greeks to achieve the long-awaited victory. The Fall of Troy - a great historical event - showed how simple emotions can wipe a huge and prosperous city off the face of the earth.
Release date of

Troy: Fall of a City

TV Series
New episodes of the «Troy: Fall of a City» series aired on Saturdays 21:10 on «BBC One» channel. The specified air time corresponds to the country - United Kingdom. Eastern Daylight Time, the episode will be available same day.
Troy: Fall of a City Season

1

- 8 Episodes

| Episode Number | Episode Name | | Release Date |
| --- | --- | --- | --- |
| 01x08 | Season 1 Episode 8 - Offering | | 07.04.2018 |
| 01x07 | Season 1 Episode 7 - Twelve Days | | 31.03.2018 |
| 01x06 | Season 1 Episode 6 - Battle on the Beach | | 24.03.2018 |
| 01x05 | Season 1 Episode 5 - Hunted | | 17.03.2018 |
| 01x04 | Season 1 Episode 4 - Spoils of War | | 10.03.2018 |
| 01x03 | Season 1 Episode 3 - Siege | | 03.03.2018 |
| 01x02 | Season 1 Episode 2 - Conditions | | 24.02.2018 |
| 01x01 | Season 1 Episode 1 - Black Blood | | 17.02.2018 |
Troy: Fall of a City TV Series trailer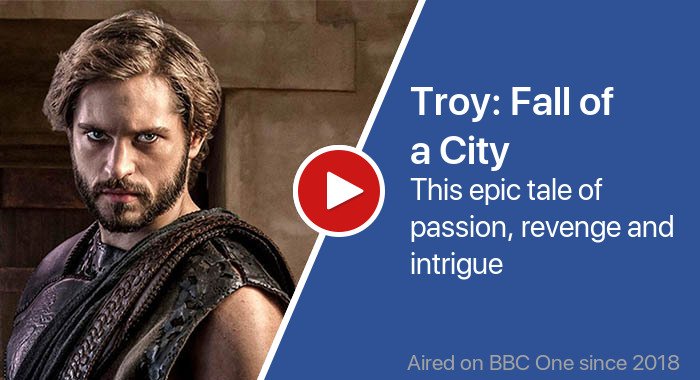 Post discussion
Comments are closed, but will be back soon