Vzryv

release date

The detective series "Explosion" was directed by Andrey Mamontov, who has a couple of good works. In this project, he invested all his soul, so the viewer will see an incredibly intriguing story. The premiere of the work is scheduled for 2018, and the main role will be played by Dmitry Chebotaryov, a very talented actor.

An ordinary family has been living in their favorite city for a long time. The couple is used to enjoying everything in the world, they love life and each other. The main character feels like he is living in his childhood dream, because he has a loving wife and a job that brings pleasure. However, the low income of both spouses poses difficulties for them, but it doesn't bother the heroes much. The wife works at a factory, and one day, coming home, she tells her husband about the safety problems at work. Hearing about this, the guy begins to worry about his beloved and makes her inform her superiors about possible malfunctions. The conversation with the management ended with a request for the woman to keep silent. A few days later, the protagonist of the series had to learn terrible news, as there was an explosion at the factory and his wife died. The guy is horrified by what happened, and even more so by the fact that his wife had warned about a possible catastrophe. Now the management is taking all measures to blame the employees for the accident. The man, hearing such audacity from the directors, decides to punish the culprits. He starts searching for evidence that will help to accuse the factory owners. Along the way, he will have to meet corrupt politicians and policemen. But the set goal must be achieved. What price will the guy have to pay? Will the hero be able to punish the real killers of his deceased wife?
Release date of

Vzryv

TV Series
New episodes of the «Vzryv» series aired Monday to Thursday 21:00 on «NTV» channel. The specified air time corresponds to the country - Russia. Eastern Daylight Time, the episode will be available same day.
Vzryv Season

1

- 6 Episodes

| Episode Number | Episode Name | | Release Date |
| --- | --- | --- | --- |
| 01x06 | Season 1 Episode 6 | | 05.09.2018 |
| 01x05 | Season 1 Episode 5 | | 05.09.2018 |
| 01x04 | Season 1 Episode 4 | | 04.09.2018 |
| 01x03 | Season 1 Episode 3 | | 04.09.2018 |
| 01x02 | Season 1 Episode 2 | | 03.09.2018 |
| 01x01 | Season 1 Episode 1 | | 03.09.2018 |
Vzryv TV Series trailer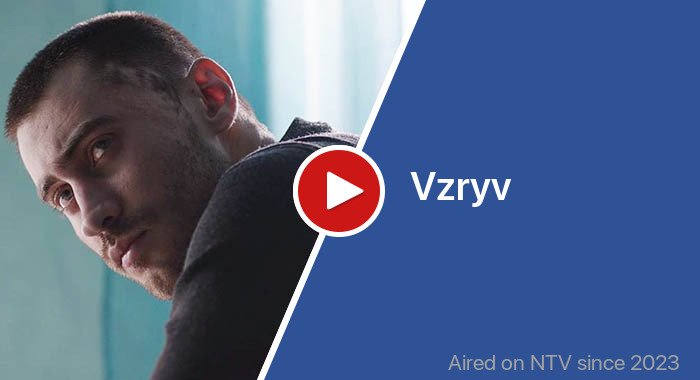 News about

Vzryv

tv series
The TV series "Vzryv" will return with its 2nd season in 2018 on NTV. The executive producer of the project, who is also one of its screenwriters, has announced the imminent resumption of work on the continuation of the story.
Post discussion
Comments are closed, but will be back soon