War of the Worlds

release date

Another film adaptation of the legendary novel by Herbert Wells. This time, the idea development was taken on by the television channel BBC One. The scriptwriter was Andrew Cochran. Josh Barry (the grandson of Gina Barry, who played the main role in the 1953 adaptation) became the scriptwriter of the new film. The executive producers were Jeff Davis and Jeff Quatinec.

The plot revolves around a fallen meteorite found in a provincial town. The extraterrestrial discovery did not come with good intentions. Uninvited guests from Mars want to conquer Earth and enslave humanity. Panic ensues in the town, and government troops are mobilized. But can humanity resist a highly advanced race, whose technological equipment is decades ahead? Against the backdrop of general helplessness and fear, Clayton Forrester tries to save his beloved Silvia. The girl's uncle, named Matthew, dies when he defends his niece against the aggressive monsters. The young couple planned to get married, but the alien invasion altered their plans. The lovers want to escape on a plane to another city. Unexpectedly, the Martians shoot down their transport, and it crashes in the desert. Together, they are forced to resist the onslaught of armed aliens and search for a way to escape. How will humanity manage to defeat the aggressors.
Release date of

War of the Worlds

TV Series
New episodes of the «War of the Worlds» series aired every Sunday 21:00 on «BBC One» channel. The specified air time corresponds to the country - United Kingdom. Eastern Daylight Time, the episode will be available same day.
War of the Worlds Season

1

- 3 Episodes

| Episode Number | Episode Name | | Release Date |
| --- | --- | --- | --- |
| 01x03 | Season 1 Episode 3 - Episode 3 | | 01.12.2019 |
| 01x02 | Season 1 Episode 2 - Episode 2 | | 24.11.2019 |
| 01x01 | Season 1 Episode 1 - Episode 1 | | 17.11.2019 |
War of the Worlds TV Series trailer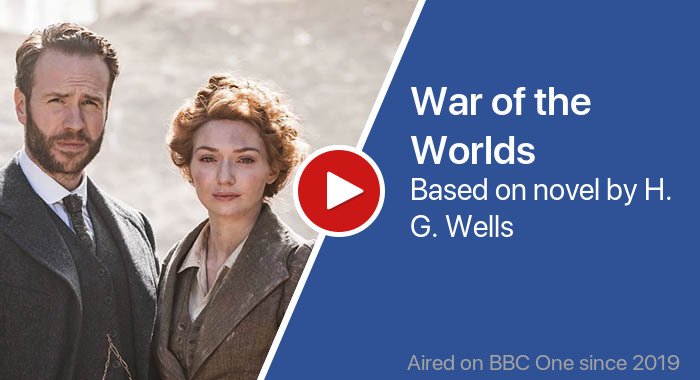 Post discussion
Comments are closed, but will be back soon