Zolotaia likhoradka

release date

A multi-episode film about the fate of gold miners, directed by the talented film director Karen Oganesyan. The role of the main character in the film was brightly and skillfully played by the famous Russian actor Vladimir Mashkov. It is noteworthy that the release of the TV project is considered one of the most significant events in Russian cinematography in 2018.

The events of the film will transport viewers back to the distant year of 1883, to the depths of Siberia. It is here that the creator and first president of the Zhyeltuginsk Republic, or as it is also called, Amur California, Ivan Fasse, will begin his ascent. A true adventurer and hardcore hard worker, he skillfully organized all the convicts, robbers and murderers, prostitutes, poor merchants, and other unreliable elements of society into a strong state of free pioneers, bordering on China. He also built the first steam-powered gold mining machine, which made him the most influential and successful pioneer in the whole region and contributed to his rise to power in the created republic. But the ruling authorities of the Russian Empire are not willing to accept this state of affairs and lose their profits, as they also have a good benefit from gold mining. Soon, the resourceful man will encounter huge troubles, which will be incredibly difficult to overcome.
Release date of

Zolotaia likhoradka

TV Series
New episodes of the «Zolotaia likhoradka» series aired Monday to Thursday 21:00 on «NTV» channel. The specified air time corresponds to the country - Russia. Eastern Daylight Time, the episode will be available same day.
Zolotaia likhoradka Season

1

- 4 Episodes

| Episode Number | Episode Name | | Release Date |
| --- | --- | --- | --- |
| 01x04 | Season 1 Episode 4 | | 02.10.2018 |
| 01x03 | Season 1 Episode 3 | | 02.10.2018 |
| 01x02 | Season 1 Episode 2 | | 01.10.2018 |
| 01x01 | Season 1 Episode 1 | | 01.10.2018 |
Zolotaia likhoradka TV Series trailer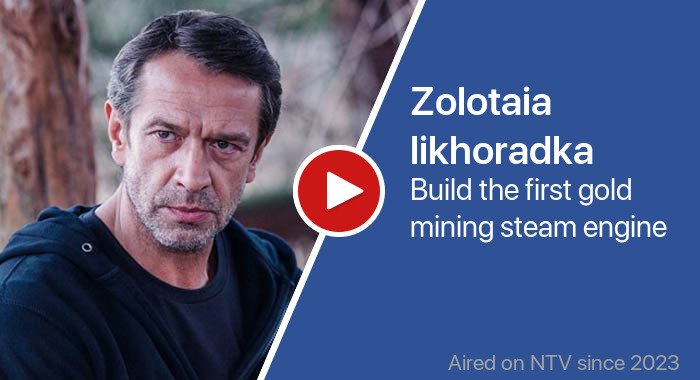 News about

Zolotaia likhoradka

tv series
According to Alexander Akopov, the producer of the Russian crime drama "Zolotaia likhoradka", the second season of the project will be ready for airing in the middle of 2018.
Post discussion
Comments are closed, but will be back soon