Dnevnik novoi russkoi

release date

The First Channel is ready to delight viewers once again with a comedy melodrama, this time "The Diary of the New Russian", which will tell the story of an ordinary girl who seems to find herself in countless troubles every day. The project is being filmed by the film studio "Profit" and directed by Fluza Farkhsatova, with the participation of "World Russian Studios".

The storyline is based on the stories that the main character, Nadezhda, finds herself in. She works as a psychologist, listening to the problems of completely different people as part of her duty and giving them useful advice. But who will give her advice and conduct a thorough analysis of her own life? Nadezhda's list of comical situations includes her relationship with the dazzling TV presenter Roman, who turns out to be a deceitful married man, scattering sushi rolls all over the restaurant and messing up the jackets of the men around her because of her inability to use chopsticks, and taking care of Savya Ignatyevich, an extremely important and professional representative of the feline family. In such circumstances, it becomes practically impossible for her to improve her personal life, or does Nadezhda just not make enough effort?
Release date of

Dnevnik novoi russkoi

TV Series
New episodes of the «Dnevnik novoi russkoi» series aired Monday to Thursday 20:30 on «Pervyi kanal» channel. The specified air time corresponds to the country - Russia. Eastern Daylight Time, the episode will be available same day.
Dnevnik novoi russkoi Season

1

- 5 Episodes

| Episode Number | Episode Name | | Release Date |
| --- | --- | --- | --- |
| 01x05 | Season 1 Episode 5 | | 11.06.2018 |
| 01x04 | Season 1 Episode 4 | | 07.06.2018 |
| 01x03 | Season 1 Episode 3 | | 06.06.2018 |
| 01x02 | Season 1 Episode 2 | | 05.06.2018 |
| 01x01 | Season 1 Episode 1 | | 04.06.2018 |
Dnevnik novoi russkoi TV Series trailer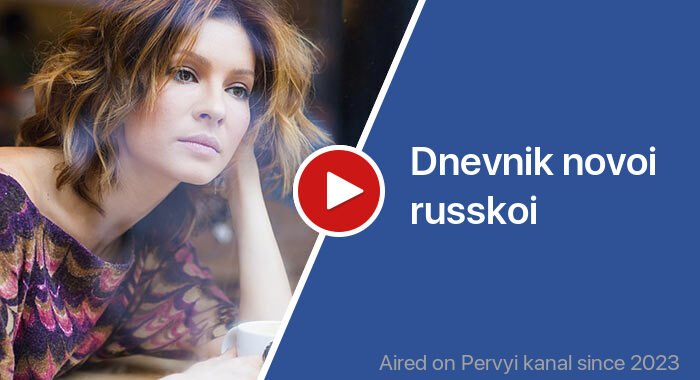 News about

Dnevnik novoi russkoi

tv series
The comedy melodrama "Dnevnik novoi russkoi" by the First Channel is still in the filming stage and has already sparked great interest among fans of the genre, who can't wait to find out about the release of the sequel. It should be noted that even the premiere date of the first season has not been announced yet.
Post discussion
Comments are closed, but will be back soon