Doktor Anna

release date

The melodramatic series consists of 8 exciting episodes. The film was directed by Yuri Leizerov, known for his participation in the film projects "The Remedy for Separation" and "The Redhead".

The events unfold at the end of the 20th century. Anna successfully graduated from medical school and became a certified doctor. She got a job as an anesthesiologist at a regular city hospital, where she soon meets a successful leader of a growing political party. He was admitted to the clinic because of a terrible illness. The doctors found cancer in him, but promised to do everything possible to get Dobrovolsky back on his feet.

Instantly, tender feelings ignite between the new acquaintances. The development of their romance was not hindered by the significant age difference or the evil and envious glances of others. The general quickly realized that it was Savelieva whom he had been waiting for all his life, and planned to propose to the beauty to become his lawful wife. His wishes were not destined to come true. The man dies during surgery, and his lover, who was present at his death, is accused of his death. In order to avoid the risk of being imprisoned for murder for many years, the main heroine makes a calculated decision to flee abroad from her native country. She spends almost two decades in France, but then returns home, wishing to find traces of the true criminals.
Release date of

Doktor Anna

TV Series
New episodes of the «Doktor Anna» series aired Monday to Thursday 21:00 on «Rossiia-1» channel. The specified air time corresponds to the country - Russia. Eastern Daylight Time, the episode will be available same day.
Doktor Anna Season

1

- 8 Episodes

| Episode Number | Episode Name | | Release Date |
| --- | --- | --- | --- |
| 01x08 | Season 1 Episode 8 | | 02.02.2016 |
| 01x07 | Season 1 Episode 7 | | 02.02.2016 |
| 01x06 | Season 1 Episode 6 | | 01.02.2016 |
| 01x05 | Season 1 Episode 5 | | 01.02.2016 |
| 01x04 | Season 1 Episode 4 | | 31.01.2016 |
| 01x03 | Season 1 Episode 3 | | 31.01.2016 |
| 01x02 | Season 1 Episode 2 | | 30.01.2016 |
| 01x01 | Season 1 Episode 1 | | 30.01.2016 |
Doktor Anna TV Series trailer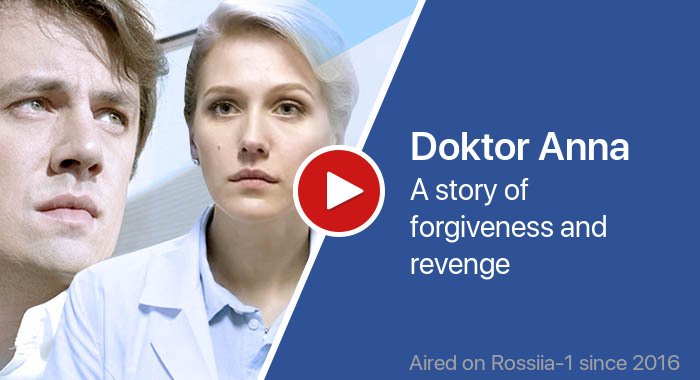 News about

Doktor Anna

tv series
The film studio Bubblegum Production, responsible for the production of the domestic melodrama "Doctor Anna", has announced their decision to extend the story to the 2nd season, which is tentatively scheduled for release in the summer of 2018.
Post discussion
Comments are closed, but will be back soon