Four Weddings and a Funeral

release date

An incredibly touching drama is considered a remake of the same-named full-length work released in 1994.

At the center of these amazing events are four friends who never lose heart, inseparable since childhood. As they grew older, their paths diverged. Most of the cheerful friends stayed in London. The charming girl Maya decided to move to the United States. The young woman purposefully built her career and truly loved her work. She was in a passionate affair with a married boss and couldn't imagine how to change the situation she had created. A monstrous chaos was taking place in her poor head. Wanting to relax and forget about her troubles, the enchanting heroine goes to a wedding ceremony for a good friend. At the airport, her paths cross with a charming man who instantly piques her interest. The attractive career woman planned to continue the acquaintance. Later she discovered that the attractive young man was her friend's boyfriend. The disappointed beauty makes persistent attempts to forget about the strange incident and not to remember the wonderful acquaintance, which effortlessly captured her unattainable heart. In a short time, the paths of the young people intersect again. Fate throws these charismatic guys some difficult tests that they must pass. Will the main characters find happiness or resign themselves to the inevitable?
Release date of

Four Weddings and a Funeral

TV Series
New episodes of the «Four Weddings and a Funeral» series aired on Wednesdays 12:00 on «Hulu» channel. The specified air time corresponds to the country - USA. Eastern Daylight Time, the episode will be available same day.
Four Weddings and a Funeral Season

1

- 10 Episodes

| Episode Number | Episode Name | | Release Date |
| --- | --- | --- | --- |
| 01x10 | Season 1 Episode 10 - New Jersey | | 11.09.2019 |
| 01x09 | Season 1 Episode 9 - Four Friends and a Secret | | 04.09.2019 |
| 01x08 | Season 1 Episode 8 - Game Night | | 28.08.2019 |
| 01x07 | Season 1 Episode 7 - The Sound of Music | | 21.08.2019 |
| 01x06 | Season 1 Episode 6 - Lights, Camera, Wedding | | 14.08.2019 |
| 01x05 | Season 1 Episode 5 - Love, Chalet | | 07.08.2019 |
| 01x04 | Season 1 Episode 4 - The Winner Takes It All | | 31.07.2019 |
| 01x03 | Season 1 Episode 3 - We Broke | | 31.07.2019 |
| 01x02 | Season 1 Episode 2 - Hounslow | | 31.07.2019 |
| 01x01 | Season 1 Episode 1 - Kash with a K | | 31.07.2019 |
Four Weddings and a Funeral TV Series trailer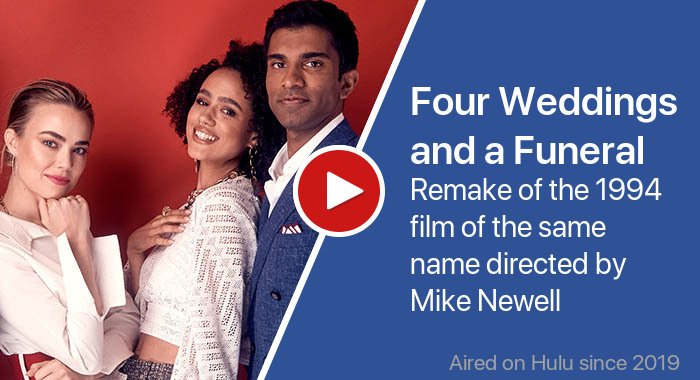 Post discussion
Comments are closed, but will be back soon