Ruya

release date

The Turkish melodrama was released on screens in July 2017. The director of the series was Jamal Shan, who came to the profession through economic management, drawing, and reviews.

The young couple in love dreams of recognition of their union from their parents. Inequality in social status becomes a real obstacle for them. A wealthy life devoid of hardships and a poor existence that forces them to work from an early age have raised different people. However, the existing differences are not a hindrance to the love of the young heroes. Bulut's heart is not ready to be far from his beloved, so even in his dreams he is haunted by the beautiful image of Elif. The girl is also determined and not willing to easily lose her happiness. Despite the dissatisfaction of relatives who try to find an equal partner for each of the children, the lovers are not going to give up. Together, they are ready to move mountains, but a new person trying to intrude into their relationship wants to destroy the formed bond. The third person has no intention of being redundant. He hopes to come out as the winner by eliminating the competitor. Will Bulut be able to resist the threat that has targeted his love, or will class prejudices prove to be stronger?
Release date of

Ruya

TV Series
New episodes of the «Ruya» series aired every Sunday 20:00 on «Show TV» channel. The specified air time corresponds to the country - Turkey. Eastern Daylight Time, the episode will be available same day.
Ruya Season

1

- 10 Episodes

| Episode Number | Episode Name | | Release Date |
| --- | --- | --- | --- |
| 01x10 | Season 1 Episode 10 - Episode 10 (finale) | | 24.09.2017 |
| 01x09 | Season 1 Episode 9 - Episode 9 | | 17.09.2017 |
| 01x08 | Season 1 Episode 8 - Episode 8 | | 10.09.2017 |
| 01x07 | Season 1 Episode 7 - Episode 7 | | 05.09.2017 |
| 01x06 | Season 1 Episode 6 - Episode 6 | | 22.08.2017 |
| 01x05 | Season 1 Episode 5 - Episode 5 | | 15.08.2017 |
| 01x04 | Season 1 Episode 4 - Episode 4 | | 08.08.2017 |
| 01x03 | Season 1 Episode 3 - Episode 3 | | 01.08.2017 |
| 01x02 | Season 1 Episode 2 - Episode 2 | | 25.07.2017 |
| 01x01 | Season 1 Episode 1 - Episode 1 | | 18.07.2017 |
Ruya TV Series trailer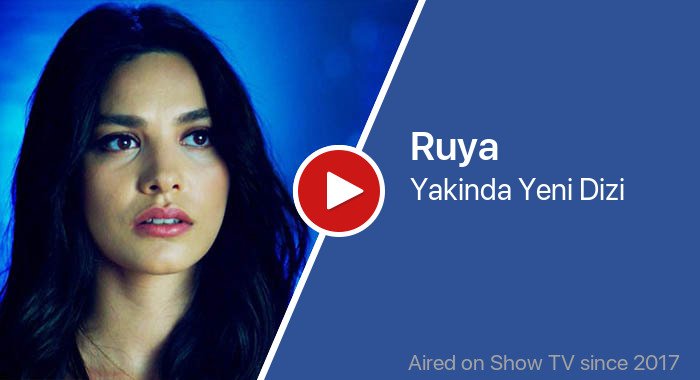 Post discussion
Comments are closed, but will be back soon