Kalbimdeki Deniz

release date

The Turkish drama ordered by the television channel "FOX" started in October 2016. In one of the episodes, a phrase in Abkhazian language is heard, thanks to the friend of the actor Ahmet Kutsi, who played the role of Mirat.

Deniz was lucky with her husband. Thanks to her spouse's efforts, their family settled in a huge and luxurious house. Love gave them wonderful children, and the space of their new mansion allowed them to accommodate Deniz's elderly father, who required special care. Their everyday life resembled a beautiful picture, causing sincere admiration. However, all the joys of life came to an end on the day of Deniz's husband's disappearance. Devoting all her strength to the search, the woman was completely unprepared for new troubles. The news of the loss of property forced her to urgently look for a new place to live. Meanwhile, the missing man didn't even think about the family's problems. After all, the cause of his disappearance was an illicit affair. The destroyer of their marriage turned out to be the heroine's best friend. The fallen misfortunes lead the discouraged woman to a new home. Here, she has the first encounter with the handsome Mirat, who captures the heart of the desperate woman. The emerging feelings are mutual, but building a new love will not be so easy.
Release date of

Kalbimdeki Deniz

TV Series
New episodes of the «Kalbimdeki Deniz» series aired every Monday 20:00 on «FOX Türkiye» channel. The specified air time corresponds to the country - Turkey. Eastern Daylight Time, the episode will be available same day.
Kalbimdeki Deniz Season

2

- 26 Episodes

| Episode Number | Episode Name | | Release Date |
| --- | --- | --- | --- |
| 02x60 | Season 2 Episode 60 - 60. Bölüm | | 12.03.2018 |
| 02x59 | Season 2 Episode 59 - 59. Bölüm | | 05.03.2018 |
| 02x58 | Season 2 Episode 58 - 58. Bölüm | | 26.02.2018 |
| 02x57 | Season 2 Episode 57 - 57. Bölüm | | 17.02.2018 |
| 02x56 | Season 2 Episode 56 - 56. Bölüm | | 10.02.2018 |
| 02x55 | Season 2 Episode 55 - 55. Bölüm | | 03.02.2018 |
| 02x54 | Season 2 Episode 54 - 54. Bölüm | | 27.01.2018 |
| 02x53 | Season 2 Episode 53 - 53. Bölüm | | 20.01.2018 |
| 02x52 | Season 2 Episode 52 - 52. Bölüm | | 13.01.2018 |
| 02x51 | Season 2 Episode 51 - 51. Bölüm | | 30.12.2017 |
| 02x50 | Season 2 Episode 50 - 50. Bölüm | | 23.12.2017 |
| 02x49 | Season 2 Episode 49 - 49. Bölüm | | 16.12.2017 |
| 02x48 | Season 2 Episode 48 - 48. Bölüm | | 09.12.2017 |
| 02x47 | Season 2 Episode 47 - 47. Bölüm | | 02.12.2017 |
| 02x46 | Season 2 Episode 46 - 46. Bölüm | | 25.11.2017 |
| 02x45 | Season 2 Episode 45 - 45. Bölüm | | 18.11.2017 |
| 02x44 | Season 2 Episode 44 - 44. Bölüm | | 11.11.2017 |
| 02x43 | Season 2 Episode 43 - 43. Bölüm | | 04.11.2017 |
| 02x42 | Season 2 Episode 42 - 42. Bölüm | | 28.10.2017 |
| 02x41 | Season 2 Episode 41 - 41. Bölüm | | 21.10.2017 |
| 02x40 | Season 2 Episode 40 - 40. Bölüm | | 14.10.2017 |
| 02x39 | Season 2 Episode 39 - 39. Bölüm | | 07.10.2017 |
| 02x38 | Season 2 Episode 38 - 38. Bölüm | | 30.09.2017 |
| 02x37 | Season 2 Episode 37 - 37. Bölüm | | 23.09.2017 |
| 02x36 | Season 2 Episode 36 - 36. Bölüm | | 16.09.2017 |
| 02x35 | Season 2 Episode 35 - 35. Bölüm | | 09.09.2017 |
Kalbimdeki Deniz Season

1

- 34 Episodes

| Episode Number | Episode Name | | Release Date |
| --- | --- | --- | --- |
| 01x34 | Season 1 Episode 34 - 34. Bölüm | | 17.06.2017 |
| 01x33 | Season 1 Episode 33 - 33. Bölüm | | 10.06.2017 |
| 01x32 | Season 1 Episode 32 - 32. Bölüm | | 03.06.2017 |
| 01x31 | Season 1 Episode 31 - 31. Bölüm | | 27.05.2017 |
| 01x30 | Season 1 Episode 30 - 30. Bölüm | | 20.05.2017 |
| 01x29 | Season 1 Episode 29 - 29. Bölüm | | 13.05.2017 |
| 01x28 | Season 1 Episode 28 - 28. Bölüm | | 06.05.2017 |
| 01x27 | Season 1 Episode 27 - 27. Bölüm | | 29.04.2017 |
| 01x26 | Season 1 Episode 26 - 26. Bölüm | | 22.04.2017 |
| 01x25 | Season 1 Episode 25 - 25. Bölüm | | 15.04.2017 |
| 01x24 | Season 1 Episode 24 - 24. Bölüm | | 08.04.2017 |
| 01x23 | Season 1 Episode 23 - 23. Bölüm | | 01.04.2017 |
| 01x22 | Season 1 Episode 22 - 22. Bölüm | | 25.03.2017 |
| 01x21 | Season 1 Episode 21 - 21.Bölüm | | 18.03.2017 |
| 01x20 | Season 1 Episode 20 - 20.Bölüm | | 11.03.2017 |
| 01x19 | Season 1 Episode 19 - 19. Bölüm | | 04.03.2017 |
| 01x18 | Season 1 Episode 18 - 18. Bölüm | | 25.02.2017 |
| 01x17 | Season 1 Episode 17 - 17. Bölüm | | 18.02.2017 |
| 01x16 | Season 1 Episode 16 - 16. Bölüm | | 11.02.2017 |
| 01x15 | Season 1 Episode 15 - 15. Bölüm | | 04.02.2017 |
| 01x14 | Season 1 Episode 14 - 14. Bölüm | | 28.01.2017 |
| 01x13 | Season 1 Episode 13 - 13. Bölüm | | 21.01.2017 |
| 01x12 | Season 1 Episode 12 - 12. Bölüm | | 14.01.2017 |
| 01x11 | Season 1 Episode 11 - 11. Bölüm | | 07.01.2017 |
| 01x10 | Season 1 Episode 10 - 10. Bölüm | | 24.12.2016 |
| 01x09 | Season 1 Episode 9 - 9. Bölüm | | 17.12.2016 |
| 01x08 | Season 1 Episode 8 - 8. Bölüm | | 10.12.2016 |
| 01x07 | Season 1 Episode 7 - 7. Bölüm | | 03.12.2016 |
| 01x06 | Season 1 Episode 6 - 6. Bölüm | | 26.11.2016 |
| 01x05 | Season 1 Episode 5 - 5. Bölüm | | 19.11.2016 |
| 01x04 | Season 1 Episode 4 - 4. Bölüm | | 12.11.2016 |
| 01x03 | Season 1 Episode 3 - 3. Bölüm | | 05.11.2016 |
| 01x02 | Season 1 Episode 2 - 2. Bölüm | | 29.10.2016 |
| 01x01 | Season 1 Episode 1 - 1. Bölüm | | 22.10.2016 |
Kalbimdeki Deniz TV Series trailer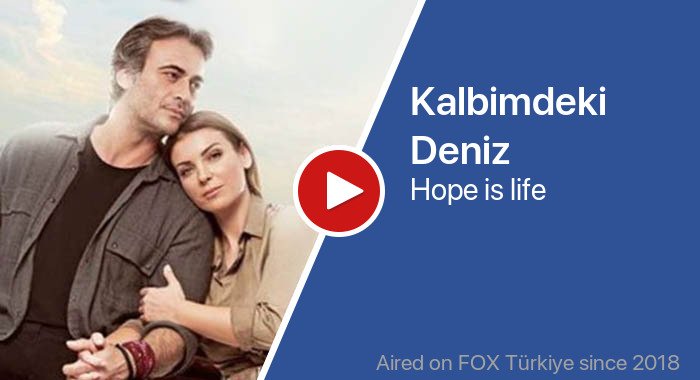 Post discussion
Comments are closed, but will be back soon