Our Boys

release date

The creator of the suspenseful project is considered to be Joseph Cedar, who gained fame after the release of the feature films "Beaufort" and "Footnote."

The events unfold in 2014, when an extraordinary incident occurred. Ruthless Hamas militants kidnapped and ruthlessly killed three underage Jews. The defenseless teenagers were unable to resist the bloodthirsty members of the criminal group, for which they paid a heavy price. The Israeli population was shocked by this unprecedented case and did not know what measures should be taken to protect the industrious people. People felt burning pain and incredible rage. Citizens were not going to leave the heartless bloodsuckers unpunished. Two days later, a burned body of a Palestinian teenager named Mohammad was found on the outskirts of Jerusalem. The determined special agent Shin became interested in the criminal case. The brave law enforcement officer worked in a unit specialized in internal terrorism. He tried to find out the true causes of the horrific tragedy. The fierce father of the burned boy intends to ensure the correct verdict. If the government is not going to punish the guilty parties, the man is ready to take on the role of an exposé. The main character is not afraid to risk his future and is eager to fight.
Release date of

Our Boys

TV Series
New episodes of the «Our Boys» series aired every Monday 21:00 on «HBO» channel. The specified air time corresponds to the country - Israel. Eastern Daylight Time, the episode will be available same day.
Our Boys Season

1

- 10 Episodes

| Episode Number | Episode Name | | Release Date |
| --- | --- | --- | --- |
| 01x10 | Season 1 Episode 10 - Chapter 10: A Shaft into a Dark Tunnel | | 07.10.2019 |
| 01x09 | Season 1 Episode 9 - Chapter 9: The Perfumer and the Tanner | | 30.09.2019 |
| 01x08 | Season 1 Episode 8 - Chapter 8: Defendants 2 and 3 | | 23.09.2019 |
| 01x07 | Season 1 Episode 7 - Chapter 7: Judging by its End | | 16.09.2019 |
| 01x06 | Season 1 Episode 6 - Chapter 6: Acceptance of Silence | | 09.09.2019 |
| 01x05 | Season 1 Episode 5 - Chapter 5: Shabbat Shalom | | 02.09.2019 |
| 01x04 | Season 1 Episode 4 - Chapter 4: The Dawn Martyr | | 26.08.2019 |
| 01x03 | Season 1 Episode 3 - Chapter 3: Two Packs of Red Next | | 19.08.2019 |
| 01x02 | Season 1 Episode 2 - Chapter 2: I Love Toto | | 12.08.2019 |
| 01x01 | Season 1 Episode 1 - Chapter 1: Out of the Depth, I Cry to You | | 12.08.2019 |
Our Boys TV Series trailer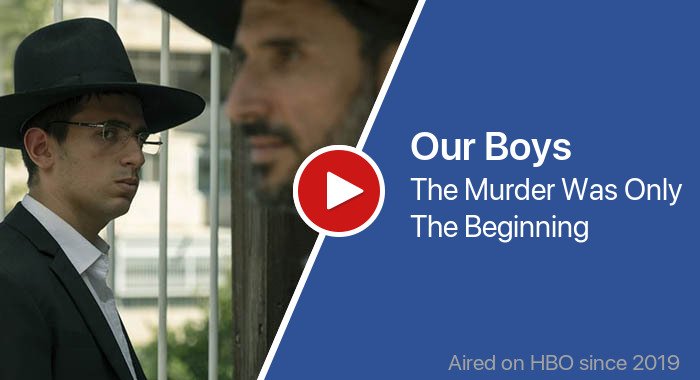 Post discussion
Comments are closed, but will be back soon