Kalp Atisi

release date

The Turkish melodrama from the film studio "MF Yapim" started in June 2017 on the channel "Show TV". Karayel Oykü, who played the main role, personally attended several real operations and also visited several wrestling lessons.

Eylül, who lives in a tiny town in the Aegean region, dreams of a successful medical career. However, the 18-year-old girl realizes perfectly well that the prospects in her hometown leave much to be desired. The relationships in her family are also difficult to envy. The modest daughter's concerns do not bother her father. His attention and care are focused solely on his newlywed wife. The grown-up daughter constantly becomes the source of new troubles, so he decides to send her to her own mother in the resort town of Marmaris. Fortunately, in addition to the support from her grandmother, the girl manages to pass the entrance exams for the local medical college. An experienced doctor, Ali Asaf becomes the teacher of the newly enrolled student. Romantic relationships flare up between them. The man, who is worried not only about his medical reputation but also about the future of the young Eylül, decides to leave the town. Thanks to the knowledge she has gained, the student becomes a real doctor. More than 10 years later, she gets a job at a large clinic in Istanbul. At her new job, the girl encounters again the teacher who paved the way to her dream. Forgotten feelings awaken again, but will they find a response or encounter another rejection?
Release date of

Kalp Atisi

TV Series
New episodes of the «Kalp Atisi» series aired every Sunday 20:00 on «Show TV» channel. The specified air time corresponds to the country - Turkey. Eastern Daylight Time, the episode will be available same day.
Kalp Atisi Season

1

- 28 Episodes

| Episode Number | Episode Name | | Release Date |
| --- | --- | --- | --- |
| 01x28 | Season 1 Episode 28 - Episode 28 (Finale) | | 28.01.2018 |
| 01x27 | Season 1 Episode 27 - Episode 27 | | 21.01.2018 |
| 01x26 | Season 1 Episode 26 - Episode 26 | | 29.12.2017 |
| 01x25 | Season 1 Episode 25 - Episode 25 | | 22.12.2017 |
| 01x24 | Season 1 Episode 24 - Episode 24 | | 15.12.2017 |
| 01x23 | Season 1 Episode 23 - Episode 23 | | 08.12.2017 |
| 01x22 | Season 1 Episode 22 - Episode 22 | | 01.12.2017 |
| 01x21 | Season 1 Episode 21 - Episode 21 | | 24.11.2017 |
| 01x20 | Season 1 Episode 20 - Episode 20 | | 17.11.2017 |
| 01x19 | Season 1 Episode 19 - Episode 19 | | 10.11.2017 |
| 01x18 | Season 1 Episode 18 - Episode 18 | | 03.11.2017 |
| 01x17 | Season 1 Episode 17 - Episode 17 | | 27.10.2017 |
| 01x16 | Season 1 Episode 16 - Episode 16 | | 20.10.2017 |
| 01x15 | Season 1 Episode 15 - Episode 15 | | 13.10.2017 |
| 01x14 | Season 1 Episode 14 - Episode 14 | | 06.10.2017 |
| 01x13 | Season 1 Episode 13 - Episode 13 | | 29.09.2017 |
| 01x12 | Season 1 Episode 12 - Episode 12 | | 22.09.2017 |
| 01x11 | Season 1 Episode 11 - Episode 11 | | 15.09.2017 |
| 01x10 | Season 1 Episode 10 - Episode 10 | | 08.09.2017 |
| 01x09 | Season 1 Episode 9 - Episode 9 | | 25.08.2017 |
| 01x08 | Season 1 Episode 8 - Episode 8 | | 18.08.2017 |
| 01x07 | Season 1 Episode 7 - Episode 7 | | 11.08.2017 |
| 01x06 | Season 1 Episode 6 - Episode 6 | | 04.08.2017 |
| 01x05 | Season 1 Episode 5 - Episode 5 | | 28.07.2017 |
| 01x04 | Season 1 Episode 4 - Episode 4 | | 21.07.2017 |
| 01x03 | Season 1 Episode 3 - Episode 3 | | 14.07.2017 |
| 01x02 | Season 1 Episode 2 - Episode 2 | | 07.07.2017 |
| 01x01 | Season 1 Episode 1 - Episode 1 | | 30.06.2017 |
Kalp Atisi TV Series trailer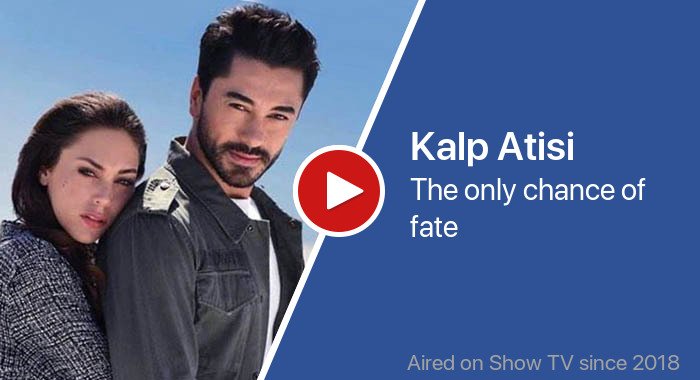 Post discussion
Comments are closed, but will be back soon