The Brokenwood Mysteries

release date

A criminal detective from "South Pacific Pictures" started in September 2014 on the "Prime" channel. One of the directors was Michael Hurst, who became famous for his role as Iolaus.

Mike Shepherd's name is worth its weight in gold in New Zealand. An experienced detective who has solved many significant cases that caused a real stir, he has earned respect and honor through long and painstaking work. His brilliant mind diligently delves into solving mysteries, and his inherent kindness helps establish a common ground with the suspects. His skillful approach in his work leaves criminals no chance. They themselves spill all the necessary information during private conversations. To his superiors' disappointment, Mike decides to return to the town of Brokenwood, which holds the best memories of his deep childhood and lively youth. Excuses do not help, and the hero confidently makes his way towards his homeland. But even here, the man does not stop his beloved occupation. The sleepy little town hides many mysteries and needs its hero who can figure them out. The residents give a special welcome to the returned comrade. And a loyal circle of friends and acquaintances quickly find him a charming and determined assistant. A young lady named Kristian Sims tries to maintain professionalism on the level of a legend, assisting in unraveling all the new secrets.
Release date of

The Brokenwood Mysteries

TV Series
New episodes of the «The Brokenwood Mysteries» series aired every Sunday 20:30 on «Prime» channel. The specified air time corresponds to the country - New Zealand. Eastern Daylight Time, the episode will be available same day.
The Brokenwood Mysteries Season

6

- 4 Episodes

| Episode Number | Episode Name | | Release Date |
| --- | --- | --- | --- |
| 06x04 | Season 6 Episode 4 - Dead and Buried | | 01.12.2019 |
| 06x03 | Season 6 Episode 3 - Dead Men Don't Shoot Ducks | | 24.11.2019 |
| 06x02 | Season 6 Episode 2 - A Real Page Turner | | 17.11.2019 |
| 06x01 | Season 6 Episode 1 - The Power of Steam | | 10.11.2019 |
The Brokenwood Mysteries Season

5

- 4 Episodes

| Episode Number | Episode Name | | Release Date |
| --- | --- | --- | --- |
| 05x04 | Season 5 Episode 4 - The Dark Angel | | 18.11.2018 |
| 05x03 | Season 5 Episode 3 - Tontine | | 11.11.2018 |
| 05x02 | Season 5 Episode 2 - Bride Not To Be | | 04.11.2018 |
| 05x01 | Season 5 Episode 1 - Scared To Death | | 28.10.2018 |
The Brokenwood Mysteries Season

4

- 4 Episodes

| Episode Number | Episode Name | | Release Date |
| --- | --- | --- | --- |
| 04x04 | Season 4 Episode 4 - Case Sixteen: As If Nothing Had Happened | | 19.11.2017 |
| 04x03 | Season 4 Episode 3 - Case Fifteen: The Scarecrow | | 12.11.2017 |
| 04x02 | Season 4 Episode 2 - Case Fourteen: Stone Cold Dead | | 05.11.2017 |
| 04x01 | Season 4 Episode 1 - Case Thirteen: Fall From Grace | | 29.10.2017 |
The Brokenwood Mysteries Season

3

- 4 Episodes

| Episode Number | Episode Name | | Release Date |
| --- | --- | --- | --- |
| 03x04 | Season 3 Episode 4 - Case Twelve: A Merry Bloody Christmas | | 20.11.2016 |
| 03x03 | Season 3 Episode 3 - Case Eleven: The Killing Machine | | 13.11.2016 |
| 03x02 | Season 3 Episode 2 - Case Ten: Over Her Dead Body | | 06.11.2016 |
| 03x01 | Season 3 Episode 1 - Case Nine: The Black Widower | | 30.10.2016 |
The Brokenwood Mysteries Season

2

- 4 Episodes

| Episode Number | Episode Name | | Release Date |
| --- | --- | --- | --- |
| 02x04 | Season 2 Episode 4 - Case Eight: Blood Pink | | 18.10.2015 |
| 02x03 | Season 2 Episode 3 - Case Seven: Catch of the Day | | 10.10.2015 |
| 02x02 | Season 2 Episode 2 - Case Six: To Die Or Not To Die | | 04.10.2015 |
| 02x01 | Season 2 Episode 1 - Case Five: Leather & Lace | | 27.09.2015 |
The Brokenwood Mysteries Season

1

- 4 Episodes

| Episode Number | Episode Name | | Release Date |
| --- | --- | --- | --- |
| 01x04 | Season 1 Episode 4 - Case Four: Hunting the Stag | | 19.10.2014 |
| 01x03 | Season 1 Episode 3 - Case Three: Playing the Lie | | 12.10.2014 |
| 01x02 | Season 1 Episode 2 - Case Two: Sour Grapes | | 05.10.2014 |
| 01x01 | Season 1 Episode 1 - Case One: Blood and Water | | 28.09.2014 |
The Brokenwood Mysteries TV Series trailer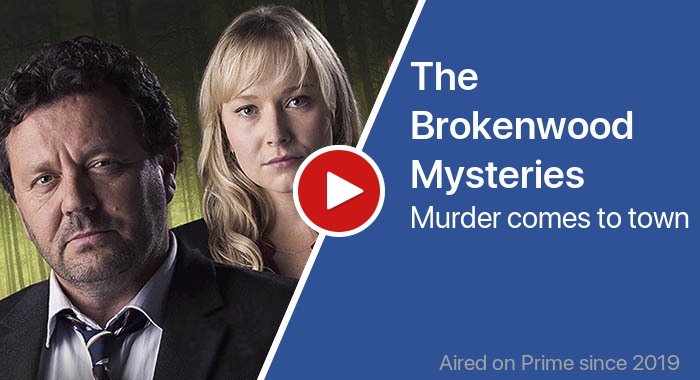 Post discussion
Comments are closed, but will be back soon