In autumn 2016, the premiere of the second season of the TV series "Mamochki" from the STS channel took place. The show, produced by the media company "YBW Group", has already been renewed for another installment. Read our article to find out when the premiere will take place!
The STS channel almost immediately after the end of filming new episodes in August 2016 announced plans to extend the sitcom "Mamochki" for a third season, which will appear on the air no earlier than 2017. Fans of the show hope that the film company "Yellow, Black & White" will shoot at least 20 episodes of this TV series. The filming process will start at the end of this year.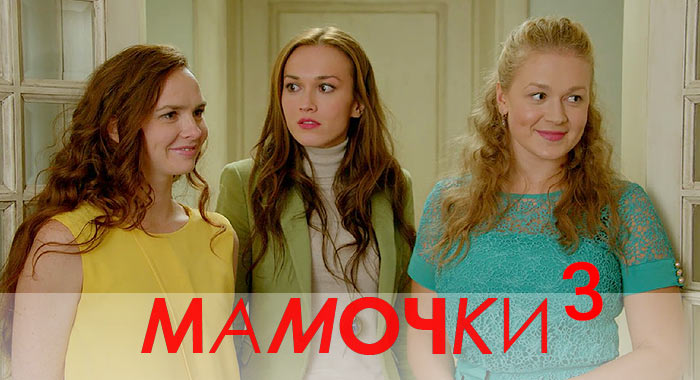 What to expect from the 3rd season
The continuation of the comedic drama about the lives of three friends after thirty years will introduce definitely new characters into the script. The main heroines Julia, Anya, and Vika are trying to cope with the routine of married life, as well as the birth and upbringing of children. The directors of the project, Valeria Ivanovskaya and Alexander Bogdanenko, promise an even more thrilling continuation of the family comedy than the previous seasons. The children are starting to grow up, which means that soon the diapers will be replaced by a kindergarten, and then a school. But this doesn't mean that women can relax with a sense of duty fulfilled - everything is just beginning. In addition to taking care of their offspring, the friends will have to face difficulties in their relationships within marriage, as 7 years is a turning point for many couples. Will they be able to withstand the pressure and cope with life's problems - watch the continuation of the TV show, which will start very soon!
The TV series "Mamochki" from STS began in December 2015. Currently, 40 episodes have been released, each lasting up to 24 minutes, which have been divided into two seasons. The main idea of the project is to show the lives of girls in the transitional period of 20-40 years, when night parties are replaced by weekdays with diapers and a child in their arms.
When will Season 3 of Mamochki be released
| Ep. number | Episode name | Release date |
| --- | --- | --- |
| 03x01 | | 06 February 2017 |
| 03x02 | Season 3 episode 2 | 06 February 2017 |
| 03x03 | Season 3 episode 3 | 07 February 2017 |
| 03x04 | Season 3 episode 4 | 08 February 2017 |
| 03x05 | Season 3 episode 5 | 09 February 2017 |
| 03x06 | Season 3 episode 6 | 13 February 2017 |
| 03x07 | Season 3 episode 7 | 14 February 2017 |
| 03x08 | Season 3 episode 8 | 15 February 2017 |
| 03x09 | Season 3 episode 9 | 16 February 2017 |
| 03x10 | Season 3 episode 10 | 20 February 2017 |
| 03x11 | Season 3 episode 11 | 21 February 2017 |
| 03x12 | Season 3 episode 12 | 22 February 2017 |
| 03x13 | Season 3 episode 13 | 23 February 2017 |
| 03x14 | Season 3 episode 14 | 27 February 2017 |
| 03x15 | Season 3 episode 15 | 28 February 2017 |
| 03x16 | Season 3 episode 16 | 01 March 2017 |
| 03x17 | Season 3 episode 17 | 02 March 2017 |
| 03x18 | Season 3 episode 18 | 06 March 2017 |
| 03x19 | Season 3 episode 19 | 07 March 2017 |
| 03x20 | Season 3 episode 20 | 08 March 2017 |