No Easy Days

release date

The premiere of the series took place on October 10, 2016 in the USA. The series tells the story of the abduction of the daughter of the US president by a group of trained mercenaries.

The whole world is shocked by this audacious crime, in which the only daughter of the leader of a great nation became the victim. Everyone understands that such an operation could only have been carried out by true experts who had access to highly classified information. The investigative agencies, which began the investigation, have no doubt that there was an insider among the terrorists who is located in the White House. The motive of the criminals is not clear yet, but soon they make harsh demands. In exchange for the return of the president's daughter, they want a huge ransom. The terrorists propose an incredibly complicated stage of money transfer, which once again confirms their professionalism. The best employees of the special services are developing various options for the operation. Their main task is to save the girl's life. However, everyone understands that there cannot be a perfect plan, and the life of the US president's daughter will be subjected to enormous risk. The work of the emergency headquarters does not stop for a moment, the best minds of the country are trying to solve this difficult task.
Release date of

No Easy Days

TV Series
New episodes of the «No Easy Days» series aired on Wednesdays 21:00 on «Amazon Prime» channel. The specified air time corresponds to the country - USA. Eastern Daylight Time, the episode will be available same day.
No Easy Days Season

1

- 8 Episodes

| Episode Number | Episode Name | | Release Date |
| --- | --- | --- | --- |
| 01x08 | Season 1 Episode 8 - Double Take | | 19.09.2018 |
| 01x07 | Season 1 Episode 7 - Point of View | | 19.09.2018 |
| 01x06 | Season 1 Episode 6 - Lockdown | | 19.09.2018 |
| 01x05 | Season 1 Episode 5 - Aftermath | | 19.09.2018 |
| 01x04 | Season 1 Episode 4 - Delta Force | | 19.09.2018 |
| 01x03 | Season 1 Episode 3 - Siege | | 19.09.2018 |
| 01x02 | Season 1 Episode 2 - Commander | | 19.09.2018 |
| 01x01 | Season 1 Episode 1 - Firecracker | | 19.09.2018 |
No Easy Days TV Series trailer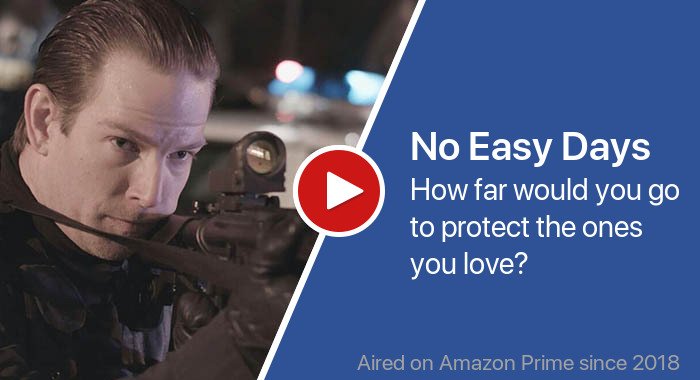 Post discussion
Comments are closed, but will be back soon