Love, Lies and Records

release date

A new drama from BBC1 directed by Cai Mellor. Starring Adrian Bauer, Rebecca Front, Kenny Doughty, and Ashley Jensen.

The main heroine of the series is Kate Dickinson. She is a working mother with young children. She has difficult colleagues at work and complicated relationships with men at home. As a registrar in a government agency, she records births, marriages, and deaths every day. All of this affects the girl. For example, she has to commit involuntary fraud - a fake marriage with immigrants just to stay in the country. One of the immigrants is involved in a murder investigation conducted by Rob, a police sergeant and Kate's friend. But not everyone treats Dickinson well. Her unfriendly colleague Judy blackmails Kate. She threatens to show a video recording from the Christmas party, where Dickinson flirts with Rick - the boss's husband. At home, the girl feels guilty and tells her partner Rob about her desire to marry soon. Rob likes this idea. Kate's stepson (Rob's son) sends mysterious love messages to Dickinson's daughter on her phone. In addition to all of this, a colleague named James is looking for shelter after being kicked out by his own wife. Will the woman be able to get through this series of unpleasant events can be seen in the series "Love, Lies, and Records".
Release date of

Love, Lies and Records

TV Series
New episodes of the «Love, Lies and Records» series aired every Thursday 21:00 on «BBC One» channel. The specified air time corresponds to the country - United Kingdom. Eastern Daylight Time, the episode will be available same day.
Love, Lies and Records Season

1

- 6 Episodes

| Episode Number | Episode Name | | Release Date |
| --- | --- | --- | --- |
| 01x06 | Season 1 Episode 6 - Episode 6 | | 21.12.2017 |
| 01x05 | Season 1 Episode 5 - Episode 5 | | 14.12.2017 |
| 01x04 | Season 1 Episode 4 - Episode 4 | | 07.12.2017 |
| 01x03 | Season 1 Episode 3 - Episode 3 | | 30.11.2017 |
| 01x02 | Season 1 Episode 2 - Episode 2 | | 23.11.2017 |
| 01x01 | Season 1 Episode 1 - Episode 1 | | 16.11.2017 |
Love, Lies and Records TV Series trailer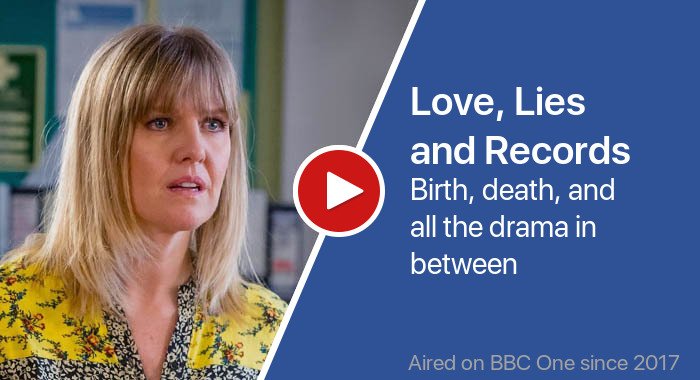 Post discussion
Comments are closed, but will be back soon