Odna zhizn na dvoikh

release date

The series was created by the World Russian Studios.

The events of the series take place in Moscow in the early 1980s. A young man named Arseniy comes to the capital from a remote provincial town. A whole new life opens up before him, and the guy dreams of achieving success in the huge city. Here, the guy meets a charming girl named Anastasia. A real feeling ignites between the young people, and they want to be together forever. However, their beautiful plans are disrupted by the authoritative family of the girl. Her parents work in the party system and are strongly against their daughter's relationship with a young man who grew up in a simple provincial family. The girl's surroundings also have a negative attitude towards Arseniy. They consider him to be someone outside their circle. This leads to a serious conflict between the girl and her family. All relatives also take the parents' side. Ultimatums are increasingly being voiced. Soon, the first blood is shed. A brutal murder takes place. Arseniy becomes a suspect who, according to the investigation, had a clear motive. Now, Nastya needs to find the real criminals, otherwise her beloved will go to prison for many years.
Release date of

Odna zhizn na dvoikh

TV Series
New episodes of the «Odna zhizn na dvoikh» series aired every Monday 21:00 on «Rossiia 1» channel. The specified air time corresponds to the country - Russia. Eastern Daylight Time, the episode will be available same day.
Odna zhizn na dvoikh Season

1

- 16 Episodes

| Episode Number | Episode Name | | Release Date |
| --- | --- | --- | --- |
| 01x16 | Season 1 Episode 16 | | 05.04.2018 |
| 01x15 | Season 1 Episode 15 | | 05.04.2018 |
| 01x14 | Season 1 Episode 14 | | 04.04.2018 |
| 01x13 | Season 1 Episode 13 | | 04.04.2018 |
| 01x12 | Season 1 Episode 12 | | 03.04.2018 |
| 01x11 | Season 1 Episode 11 | | 03.04.2018 |
| 01x10 | Season 1 Episode 10 | | 02.04.2018 |
| 01x09 | Season 1 Episode 9 | | 02.04.2018 |
| 01x08 | Season 1 Episode 8 | | 29.03.2018 |
| 01x07 | Season 1 Episode 7 | | 29.03.2018 |
| 01x06 | Season 1 Episode 6 | | 28.03.2018 |
| 01x05 | Season 1 Episode 5 | | 28.03.2018 |
| 01x04 | Season 1 Episode 4 | | 27.03.2018 |
| 01x03 | Season 1 Episode 3 | | 27.03.2018 |
| 01x02 | Season 1 Episode 2 | | 26.03.2018 |
| 01x01 | Season 1 Episode 1 | | 26.03.2018 |
Odna zhizn na dvoikh TV Series trailer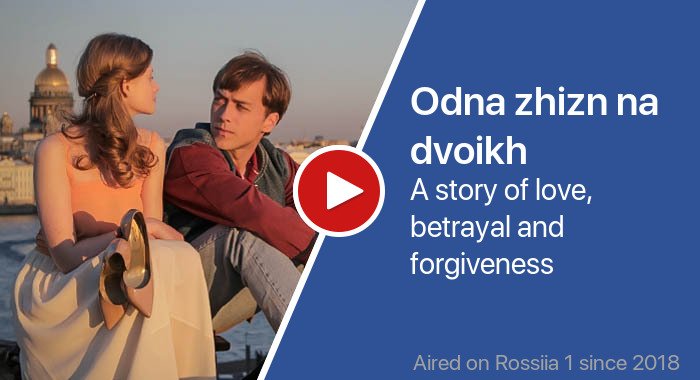 Post discussion
Comments are closed, but will be back soon