Shpion №1

release date

Russian spy series of 2018 directed by Mikhail Barkan.

The action takes place in the 90s. Two intelligence officers receive a responsible assignment. They need to accompany an undercover agent and ensure his safety. Kipling (such a callsign for a scout) works in the United States. The American Bureau of Investigation and Intelligence cannot identify the elusive "mole." A lot of people are involved in this intricate operation, which adds trouble to our officers.

In addition to themselves, their close people are also involved in this tough game. The work of spies is capable of putting not only their own lives, but also the safety of their relatives and friends at stake. The FBI is getting closer to the presumed spy. Then they begin to use various techniques from their arsenal - bribery, blackmail, direct murder. Kipling is on the brink of exposure. However, help comes from Russia in time in the form of two colleagues who try to cover up the traces and discreetly remove their colleague from the risky game. An entire team of homeland intelligence agents is responsible for the successful execution of the operation. But even despite all the precautions and concealment, in such a complex task, one can fail simply because of any trifle.
Release date of

Shpion №1

TV Series
New episodes of the «Shpion №1» series aired Monday to Thursday 21:00 on «NTV» channel. The specified air time corresponds to the country - Russia. Eastern Daylight Time, the episode will be available same day.
Shpion №1 Season

1

- 12 Episodes

| Episode Number | Episode Name | | Release Date |
| --- | --- | --- | --- |
| 01x12 | Season 1 Episode 12 | | 26.11.2020 |
| 01x11 | Season 1 Episode 11 | | 25.11.2020 |
| 01x10 | Season 1 Episode 10 | | 24.11.2020 |
| 01x09 | Season 1 Episode 9 | | 23.11.2020 |
| 01x08 | Season 1 Episode 8 | | 19.11.2020 |
| 01x07 | Season 1 Episode 7 | | 18.11.2020 |
| 01x06 | Season 1 Episode 6 | | 17.11.2020 |
| 01x05 | Season 1 Episode 5 | | 16.11.2020 |
| 01x04 | Season 1 Episode 4 | | 12.11.2020 |
| 01x03 | Season 1 Episode 3 | | 11.11.2020 |
| 01x02 | Season 1 Episode 2 | | 10.11.2020 |
| 01x01 | Season 1 Episode 1 | | 09.11.2020 |
Shpion №1 TV Series trailer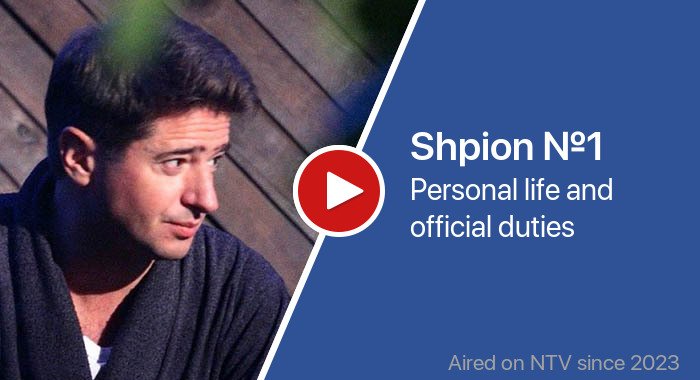 Post discussion
Comments are closed, but will be back soon