Shtrafnik

release date

This TV series is a joint work of filmmakers from Russia and Ukraine.

A military officer named Ignat Belov is traveling home by train. There he meets an old acquaintance with whom the man has the most unpleasant memories. Once upon a time, a long time ago, it was because of this friend nicknamed Sysh that they got into a very unpleasant situation as little children. Sysh was older and drew Ignat and several other teenagers into a raid on a warehouse filled with canned meat. There they fell into a trap, and the brave teenager, risking his own life, saved Sysh. After this incident, Ignat decided to dramatically change his life. Since those distant years, the paths of the two men have not crossed. Now Sysh is extremely glad to see his old friend. He offers Ignat, a trusted person for him, a new risky venture. The captain refuses. He understands that Sysh did not turn away from the wrong path and is still involved in serious crimes. Over the years, Ignat has gained valuable combat experience during his military service. He decides to single-handedly stop Sysh and his ruthless gang of hardcore criminals. Captain Belov understands - this will be a dangerous affair, but a man of honor cannot act otherwise.
Release date of

Shtrafnik

TV Series
New episodes of the «Shtrafnik» series aired Monday to Thursday 21:30 on «Pervyi kanal» channel. The specified air time corresponds to the country - Russia. Eastern Daylight Time, the episode will be available same day.
Shtrafnik Season

1

- 12 Episodes

| Episode Number | Episode Name | | Release Date |
| --- | --- | --- | --- |
| 01x12 | Season 1 Episode 12 | | 16.03.2017 |
| 01x11 | Season 1 Episode 11 | | 15.03.2017 |
| 01x10 | Season 1 Episode 10 | | 14.03.2017 |
| 01x09 | Season 1 Episode 9 | | 13.03.2017 |
| 01x08 | Season 1 Episode 8 | | 09.03.2017 |
| 01x07 | Season 1 Episode 7 | | 08.03.2017 |
| 01x06 | Season 1 Episode 6 | | 07.03.2017 |
| 01x05 | Season 1 Episode 5 | | 06.03.2017 |
| 01x04 | Season 1 Episode 4 | | 02.03.2017 |
| 01x03 | Season 1 Episode 3 | | 01.03.2017 |
| 01x02 | Season 1 Episode 2 | | 28.02.2017 |
| 01x01 | Season 1 Episode 1 | | 27.02.2017 |
Shtrafnik TV Series trailer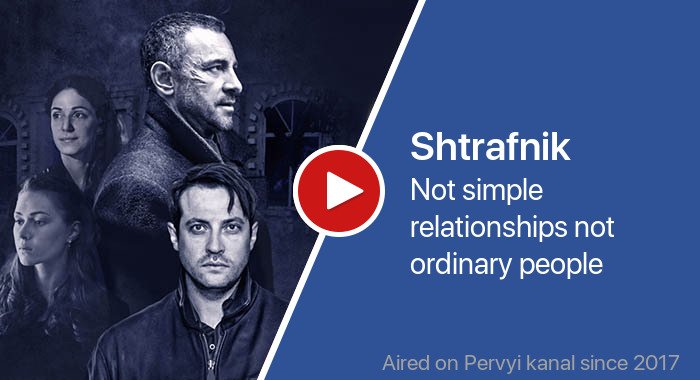 Post discussion
Comments are closed, but will be back soon