Sto dnei svobody

release date

A Russian TV series of 2018. Timur Alpatov became the director of the project. The series features famous Russian actors - Alexander Mikhailov and Sofia Sinitsyna.

Petr Avdeevich served ten years of imprisonment on false charges of counter-revolutionary propaganda. Upon returning home, he realizes that his neighbors avoid him and his house is dilapidated. The only close person he has left is his granddaughter. She has a young man who also mistrusts the former prisoner. However, Petr greatly values the freedom he has acquired in his old age. The Germans invade the Soviet Union, and the Great Patriotic War is imminent. Soviet occupiers recruit local residents as their informants. Petr Avdeevich agrees to collaborate with the German invaders. He has nothing left to lose, and the hatred towards Soviet authorities has accumulated over these ten years. In return, he is offered good living conditions and regular payment for revealing secrets of the Soviet leadership. Unexpectedly, a woman appears in the life of the elderly man, igniting the fading love in his heart. But Petr does not anticipate the further challenges that fate will present him with. Ahead of him are only one hundred days of freedom, and he will make the most of them.
Release date of

Sto dnei svobody

TV Series
New episodes of the «Sto dnei svobody» series aired Monday to Thursday 20:00 on «Pervyi kanal» channel. The specified air time corresponds to the country - Russia. Eastern Daylight Time, the episode will be available same day.
Sto dnei svobody Season

1

- 10 Episodes

| Episode Number | Episode Name | | Release Date |
| --- | --- | --- | --- |
| 01x10 | Season 1 Episode 10 | | 16.02.2021 |
| 01x09 | Season 1 Episode 9 | | 15.02.2021 |
| 01x08 | Season 1 Episode 8 | | 11.02.2021 |
| 01x07 | Season 1 Episode 7 | | 10.02.2021 |
| 01x06 | Season 1 Episode 6 | | 09.02.2021 |
| 01x05 | Season 1 Episode 5 | | 08.02.2021 |
| 01x04 | Season 1 Episode 4 | | 04.02.2021 |
| 01x03 | Season 1 Episode 3 | | 03.02.2021 |
| 01x02 | Season 1 Episode 2 | | 02.02.2021 |
| 01x01 | Season 1 Episode 1 | | 01.02.2021 |
Sto dnei svobody TV Series trailer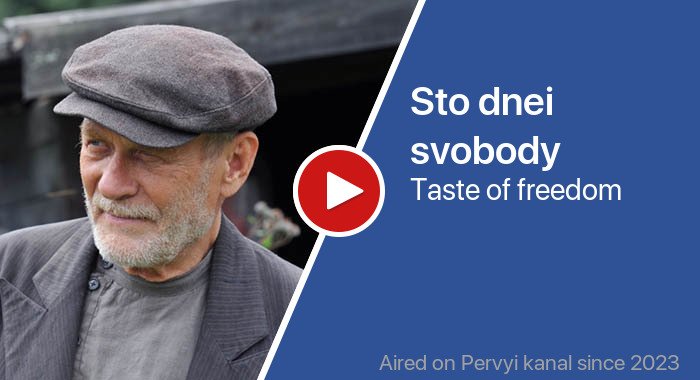 Post discussion
Comments are closed, but will be back soon