The City and the City

release date

A fantasy detective series from "Mammoth Screen" premiered in April 2018 on the "BBC" channel. The original novella, on which the series is based, was written by the fantasy writer China Miéville as a gift for his terminally ill mother.

The murder of a young girl, found in the docks of the seedy town of Beizhel, does not receive much publicity. The local police, considering the victim to be a prostitute, put the case on the back burner. However, Inspector Théodora Borl's opinion fundamentally differs from that of his colleagues. His professional instincts tell him that the crime requires closer attention. The man learns that the girl was a student from a neighboring town called Uhlkoman. What is unusual is that, despite their close proximity, the residents of the towns have never crossed their boundaries. This rule applied equally to both sides, so the mystery lay not only in the cause of death, but also in the purpose of the victim's visit. With the support of Constable Corvae, Boyle sets off to Uhlkoman to find out more about the mysterious visitor. During the investigation, he discovers horrifying secrets that connect the two towns, and his familiar perception of three dimensions undergoes serious changes.
Release date of

The City and the City

TV Series
New episodes of the «The City and the City» series aired every Monday 21:00 on «BBC iPlayer» channel. The specified air time corresponds to the country - United Kingdom. Eastern Daylight Time, the episode will be available same day.
The City and the City Season

1

- 4 Episodes

| Episode Number | Episode Name | | Release Date |
| --- | --- | --- | --- |
| 01x04 | Season 1 Episode 4 - 4. Breach | | 06.04.2018 |
| 01x03 | Season 1 Episode 3 - 3. Orciny | | 06.04.2018 |
| 01x02 | Season 1 Episode 2 - 2. Ul Qoma | | 06.04.2018 |
| 01x01 | Season 1 Episode 1 - 1. Besźel | | 02.04.2018 |
The City and the City TV Series trailer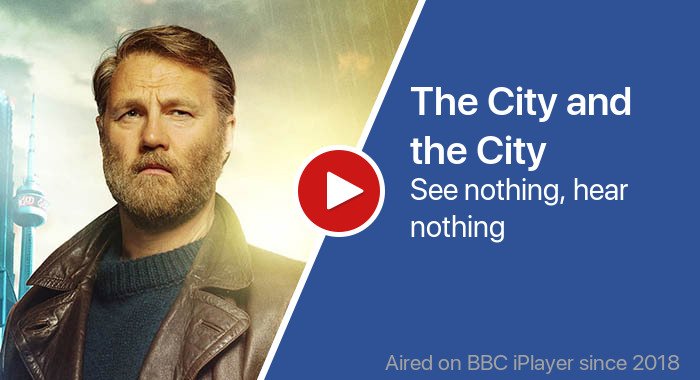 News about

The City and the City

tv series
The representative of the film studio Mammoth Screen has announced that the start of the second season of the project "City and City" is scheduled for the first half of 2019.
Post discussion
Comments are closed, but will be back soon