The Code

release date

Various TV stars were invited to participate in the TV drama. Raffi Barsumian, who was involved in the TV projects "Shameless" and "The Vampire Diaries", appeared in the show.

In the epicenter of the thrilling events is a group of gifted individuals who have consciously chosen an incredibly challenging path. They have to rely on their own intuition, knowledge, and intellectual abilities every day. Sometimes they are given orders to work as a team and find compromises. They hold influential positions in a special unit, which includes outstanding individuals. They can be experienced detectives, marines, and determined human rights defenders. They are tasked with defending the interests of ordinary citizens and guiding them on the righteous path. Sometimes circumstances corner the key characters. The guys think they will be able to find a suitable solution to the impending problem. Beginner lawyers learn the basics of a difficult profession and soon realize if they are on the right path. They need to prepare fiery speeches and constantly speak at court hearings. Court employees and representatives of the armed forces strive to timely overcome insurmountable obstacles and consciously give up dates with their loved ones.
Release date of

The Code

TV Series
New episodes of the «The Code» series aired every Monday 21:00 on «CBS» channel. The specified air time corresponds to the country - USA. Eastern Daylight Time, the episode will be available same day.
The Code Season

1

- 12 Episodes

| Episode Number | Episode Name | | Release Date |
| --- | --- | --- | --- |
| 01x12 | Season 1 Episode 12 - Legit Bad Day | | 22.07.2019 |
| 01x11 | Season 1 Episode 11 - Don and Doff | | 15.07.2019 |
| 01x10 | Season 1 Episode 10 - Secret Squirrel | | 08.07.2019 |
| 01x09 | Season 1 Episode 9 - Smoke-Pit | | 01.07.2019 |
| 01x08 | Season 1 Episode 8 - Lioness | | 03.06.2019 |
| 01x07 | Season 1 Episode 7 - Above the Knee | | 20.05.2019 |
| 01x06 | Season 1 Episode 6 - 1st Civ Div | | 13.05.2019 |
| 01x05 | Season 1 Episode 5 - Maggie's Drawers | | 06.05.2019 |
| 01x04 | Season 1 Episode 4 - Back on the Block | | 29.04.2019 |
| 01x03 | Season 1 Episode 3 - Molly Marine | | 22.04.2019 |
| 01x02 | Season 1 Episode 2 - P.O.G. | | 15.04.2019 |
| 01x01 | Season 1 Episode 1 - Blowed Up | | 09.04.2019 |
The Code TV Series trailer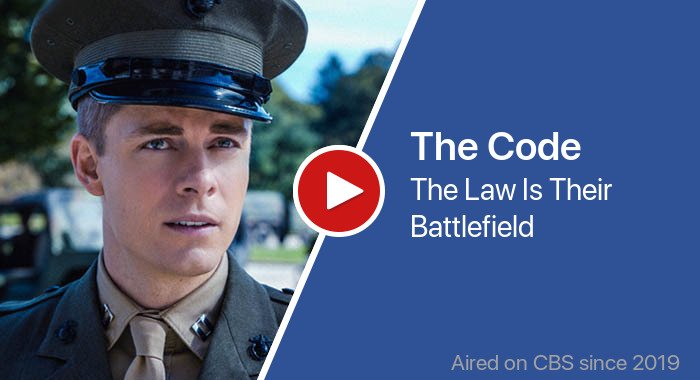 Post discussion
Comments are closed, but will be back soon