The Loch

release date

A criminal thriller by the Englishmen started in June 2017 on the television channel "ITV". The mystical and atmospheric places featured in the series were filmed on the site of the most famous Scottish lake.

Annie Redford is a detective in a police department located in a small Scottish town. Despite the urban legends about the legendary Nessie, dwelling in the local lake, the lives of the population are not rich in loud events. Attempts at robbery and petty theft are the most horrible crimes committed here. The influx of tourists that arose during the first rumors about the creature has long disappeared. In an attempt to pass the time and liven up the atmosphere, a group of teenagers, together with Redford's daughter, builds a model of the monster for the owner of a travel agency. However, tranquil days are overshadowed by a sudden discovery. A corpse with an opened skull box, devoid of part of the brain, and the heart of another unfortunate, found nearby, lead to the version of the appearance of a serial killer. Detectives from Glasgow come to help. Taking on the first case involving murder, Annie begins to uncover the terrifying secrets of the sleepy town. Each resident is hiding something, and even one's own family cannot be trusted.
Release date of

The Loch

TV Series
New episodes of the «The Loch» series aired every Sunday 21:00 on «ITV» channel. The specified air time corresponds to the country - United Kingdom. Eastern Daylight Time, the episode will be available same day.
The Loch Season

1

- 6 Episodes

| Episode Number | Episode Name | | Release Date |
| --- | --- | --- | --- |
| 01x06 | Season 1 Episode 6 - Episode 6 | | 16.07.2017 |
| 01x05 | Season 1 Episode 5 - Episode 5 | | 09.07.2017 |
| 01x04 | Season 1 Episode 4 - Episode 4 | | 02.07.2017 |
| 01x03 | Season 1 Episode 3 - Episode 3 | | 25.06.2017 |
| 01x02 | Season 1 Episode 2 - Episode 2 | | 18.06.2017 |
| 01x01 | Season 1 Episode 1 - Episode 1 | | 11.06.2017 |
The Loch TV Series trailer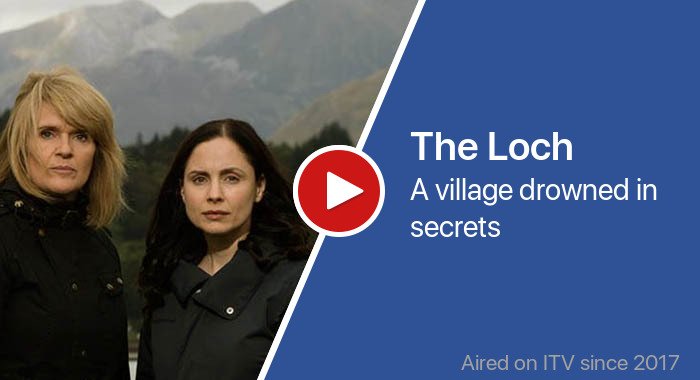 Post discussion
Comments are closed, but will be back soon