Trotckii

release date

Historical Russian TV series of 2018, directed by Alexander Kott. Starring Konstantin Khabensky, Maxim Matveev, Olga Sutulova. The premiere of the series took place on November 6th on Channel One.

Trotsky emigrated from the USSR due to the persecution of Joseph Stalin. During his eleven years of forced exile in his homeland, all his loved ones perish and end up in camps. In 1940, he seeks refuge in Mexico. However, Trotsky soon realizes that there is nowhere to hide from the omnipotent hand of the dictator. He will be pursued for the rest of his life. That's when he decides to carry out a revolution, not with weapons, but with words. In his political will, he leaves a tale about a Jewish youth, born into a poor family. His struggle revolves around revolutionary ideas that truly compelled people to stand against Stalin's dictatorship. He implements this idea with the help of Frank Jackson. The Canadian journalist travels to the secretary of Lev Davidovich, Sylvia Ageloff. Initially, they develop personal animosity towards each other. But Lev Trotsky understands that international resonance can only be achieved through a person connected to global journalism. However, Jackson himself is a staunch Stalinist. But Trotsky puts in efforts to persuade him with his story.
Release date of

Trotckii

TV Series
New episodes of the «Trotckii» series aired every Monday 21:30 on «Pervyi kanal» channel. The specified air time corresponds to the country - Russia. Eastern Daylight Time, the episode will be available same day.
Trotckii Season

2

- 1 Episode

Episode Number

Episode Name
Release Date
02x01

Season 2 Episode 1

04.11.2019
This season was aired

on Monday, November 4 at 21:00
Trotckii Season

1

- 8 Episodes

| Episode Number | Episode Name | | Release Date |
| --- | --- | --- | --- |
| 01x08 | Season 1 Episode 8 | | 06.11.2017 |
| 01x07 | Season 1 Episode 7 | | 09.11.2017 |
| 01x06 | Season 1 Episode 6 | | 09.11.2017 |
| 01x05 | Season 1 Episode 5 | | 08.11.2017 |
| 01x04 | Season 1 Episode 4 | | 08.11.2017 |
| 01x03 | Season 1 Episode 3 | | 07.11.2017 |
| 01x02 | Season 1 Episode 2 | | 07.11.2017 |
| 01x01 | Season 1 Episode 1 | | 06.11.2017 |
Trotckii TV Series trailer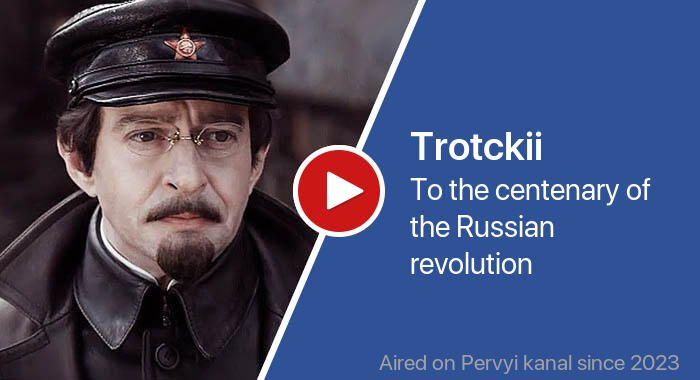 Post discussion
Comments are closed, but will be back soon