Condor

release date

Three days of Condor is a crime thriller from 2018 by the Audience Network studio. The television series is based on the infamous drama about a spy agent that was released in 1975.

Secret agent Joe Turner from the Central Intelligence Agency becomes an unwanted interference in someone's game. When Joe conducts research on espionage methods in literature, he finds all of his colleagues dead. Now Turner needs to figure out who he can call his allies and who just wants to get even with him. Later it turns out that he crossed paths with his own management. A philologist by education, he stumbles upon a criminal network. A separate group of agents plans to seize profitable oil fields in the Middle East. Curiosity and the desire to restore justice lead Turner back to his own superiors. For three days, Joe is forced to hide from pursuit, the goal of which is one thing - to eliminate an unwanted witness of the undercover games of the CIA leadership. The target that they planned to deal with as easily as Turner's partners turned out not to be so compliant. His own colleagues may turn out to be traitors, so it is necessary to carefully choose who to trust and who to stay away from.
Release date of

Condor

TV Series
New episodes of the «Condor» series aired on Wednesdays 22:00 on «Audience» channel. The specified air time corresponds to the country - USA. Eastern Daylight Time, the episode will be available same day.
Condor Season

2

- 1 Episode

Episode Number

Episode Name
Release Date
02x01

Season 2 Episode 1

05.06.2019
This season was aired

on Wednesday, June 5 at 22:00
Condor Season

1

- 10 Episodes

| Episode Number | Episode Name | | Release Date |
| --- | --- | --- | --- |
| 01x10 | Season 1 Episode 10 - Mistrust Blossoms | | 15.08.2018 |
| 01x09 | Season 1 Episode 9 - Death Is the Harvest | | 08.08.2018 |
| 01x08 | Season 1 Episode 8 - A Question of Compromise | | 01.08.2018 |
| 01x07 | Season 1 Episode 7 - Within a Dark Wood | | 25.07.2018 |
| 01x06 | Season 1 Episode 6 - No Such Thing | | 18.07.2018 |
| 01x05 | Season 1 Episode 5 - A Diamond With a Flaw | | 11.07.2018 |
| 01x04 | Season 1 Episode 4 - Trapped in History | | 27.06.2018 |
| 01x03 | Season 1 Episode 3 - A Good Patriot | | 20.06.2018 |
| 01x02 | Season 1 Episode 2 - The Solution to All Problems | | 13.06.2018 |
| 01x01 | Season 1 Episode 1 - What Loneliness | | 06.06.2018 |
Condor TV Series trailer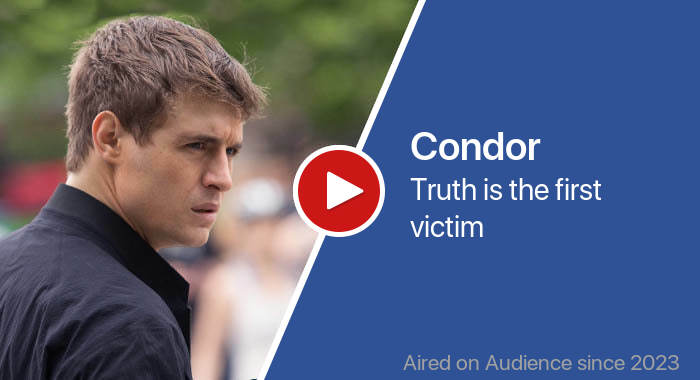 Post discussion
Comments are closed, but will be back soon