Give back my love

release date

Joint project of Russia and Ukraine, the world premiere of which took place on December 8, 2014.

A very young and somewhat naive girl named Vera is a professional musician. She plays the cello. At almost the same time, fate introduces her to two completely different men. They are as incompatible as ice and fire. One of them is an artist named Vlad, the other is a successful businessman named Anton. Incredibly kind, but completely disorganized Vlad is the only son and heir to a huge fortune. His father, Sergey Orlov, known throughout the country, is an oligarch and has numerous connections in various circles. However, for many years, the son has harbored resentment towards his successful father, who abandoned Vlad's mother, but the main reason for the animosity towards Orlov is different. The young man is convinced that his beloved girlfriend, Alena, took her own life due to pressure from the influential oligarch on their relationship. Anton is a cold and calculating businessman who works in Orlov's company and aspires to the director's chair. He is ready to resort to any treachery for this. However, Vera chooses Anton, unaware of the strong disappointment that awaits her in the future. Until he reveals his true face.
Release date of

Give back my love

TV Series
New episodes of the «Give back my love» series aired Monday to Thursday 20:00 on «Inter, Rossiia 1» channel. The specified air time corresponds to the country - Ukraine. Eastern Daylight Time, the episode will be available same day.
Verni moiu liubov Season

1

- 24 Episodes

| Episode Number | Episode Name | | Release Date |
| --- | --- | --- | --- |
| 01x24 | Season 1 Episode 24 | | 25.12.2014 |
| 01x23 | Season 1 Episode 23 | | 25.12.2014 |
| 01x22 | Season 1 Episode 22 | | 24.12.2014 |
| 01x21 | Season 1 Episode 21 | | 24.12.2014 |
| 01x20 | Season 1 Episode 20 | | 23.12.2014 |
| 01x19 | Season 1 Episode 19 | | 23.12.2014 |
| 01x18 | Season 1 Episode 18 | | 22.12.2014 |
| 01x17 | Season 1 Episode 17 | | 22.12.2014 |
| 01x16 | Season 1 Episode 16 | | 18.12.2014 |
| 01x15 | Season 1 Episode 15 | | 18.12.2014 |
| 01x14 | Season 1 Episode 14 | | 17.12.2014 |
| 01x13 | Season 1 Episode 13 | | 17.12.2014 |
| 01x12 | Season 1 Episode 12 | | 16.12.2014 |
| 01x11 | Season 1 Episode 11 | | 16.12.2014 |
| 01x10 | Season 1 Episode 10 | | 15.12.2014 |
| 01x09 | Season 1 Episode 9 | | 15.12.2014 |
| 01x08 | Season 1 Episode 8 | | 11.12.2014 |
| 01x07 | Season 1 Episode 7 | | 11.12.2014 |
| 01x06 | Season 1 Episode 6 | | 10.12.2014 |
| 01x05 | Season 1 Episode 5 | | 10.12.2014 |
| 01x04 | Season 1 Episode 4 | | 09.12.2014 |
| 01x03 | Season 1 Episode 3 | | 09.12.2014 |
| 01x02 | Season 1 Episode 2 | | 08.12.2014 |
| 01x01 | Season 1 Episode 1 | | 08.12.2014 |
Verni moiu liubov TV Series trailer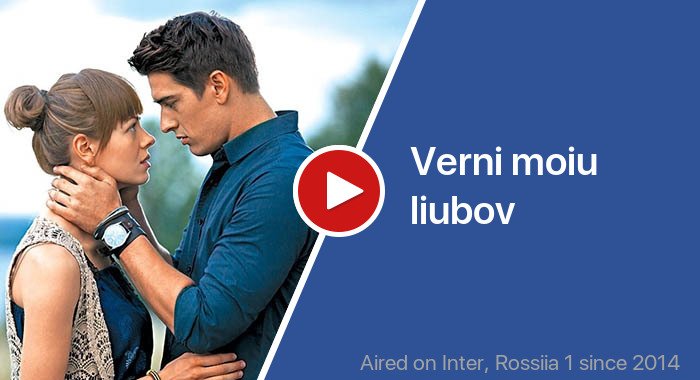 Post discussion
Comments are closed, but will be back soon